Ricky Martin Talks About His Sexy, Smart Boyfriend & Twin Sons In New Advocate Interview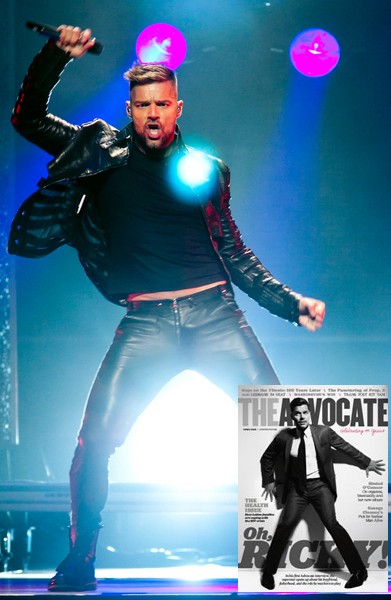 In a new interview with The Advocate, singer Ricky Martin opens up about his boyfriend Carlos Gonzalez Abella, how he likes being a dad, and acting in the Broadway revival of "Evita."

Martin wasn't looking for a relationship when a friend introduced him to Carlos, a financial analyst-stockbroker four years ago.
"It was just one of those things that just happened," Martin recalls. "I was like, 'You're not supposed to be here right now. Would you please allow me to just go on my journey?'"
Hesitant to talk about press-shy Abella in the past, Martin opens up a little bit further. "I think he's so sexy. He's very smart. That is such a turn-on. He laves the house every day in a suit and tie and that is so sexy. It's two different worlds—his and mine. I know as much about his world as he knows about my world, which makes it really cool."

The couple is dedicated to providing stability for Martin's twin sons, Matteo and Valentino. "There is a lot of love and a lot of communication. He's guided by the approach I take with the kids, he imitates it perfectly," Martin says. "Every decision I make and everything I do is based on their needs," he continues. "I don't want to sound cliché, but they teach me new things every day."

Despite his chaotic schedule, Martin decided to return to acting. He had not acted for years before his appearance this season on "Glee," in a role the show's creator, Ryan Murphy, had written specifically for the singer.
"He has such star power," Murphy says. "Even the straight boys in the cast were just gob-smacked by his confidence and said if they ever turned, it would be for Ricky Martin."

It took his "Glee" stint to realize how much he had missed acting. And now Martin will bring that passion to Broadway starring as Che, the rebellious voice of the people and antagonist to Argentinean first lady Even Peron, in the revival of "Evita." Che is someone Martin feels he's been preparing to play his entire life, and he relates to the character's conflicting emotions.
"I can go from anger to love to uncertainty within 30 minutes of the show," Martin says. "That's amazing because that's what my life has been about for the last three years—feeling. Not sabotaging any kind of emotions. Letting everything just come through me a verbalize it. It's a very spiritual exercise that I'll do every night."

Martin recognizes and identifies with Che's struggle for human rights. And with his Ricky Martin Foundation, an organization committed to ending human trafficking and the exploitation of children, Martin too has been working for human rights.
"And since I've come out, I've been verbal about the importance of equality and what needs to be said. That's what Che is about too. That is going to be my inspiration, my motivation every night," he says.

Read the full Ricky Martin interview HERE!