Ricki Lake Injured During 'Dancing' Rehearsals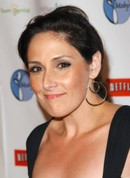 Actress Ricki Lake was treated by medics on Thursday after she picked up an injury during rehearsals for the new season of Dancing With The Stars.

The Hairspray star and former talk show host is competing on the series alongside David Arquette, Cher's son Chaz Bono and George Clooney's ex-girlfriend Elisabetta Canalis.

She has now become the first celebrity to be injured during the new season after hurting her shin while practicing with dance partner Derek Hough.

In a series of posts on Twitter.com, alongside an image of her bruised leg, she writes, "Look, my first injury... Don't ask how it happened... Not sure how my bruise turned into a medic showing up? I'm fine!!"