Rick Ross Postpones Album Release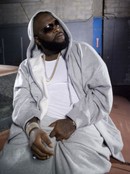 Rick Ross has delayed the release of his new album as he recovers from two seizures which landed him in the hospital last month.

God Forgives, I Don't was due to hit shelves on December 13th but it has been pushed back to early next year following the rapper's health crisis on October 14th.

Ross has assured fans he is feeling much better now but executives at his record label want to give the heavyweight hip-hop star plenty of time to recover.

Island Def Jam marketing boss Chris Atlas tells Billboard, "I think we're all aware of his recent health issue, and based on some of the minor setbacks with that, we weren't able to confirm certain opportunities, because he physically wasn't able to deal with certain things at the time.

"We want this to be his biggest album - we know it's going to be his biggest album - so we did not want to pressure him into releasing an album based on the sake of a date."