Rick Ross Named MTV's Hottest MC In The Game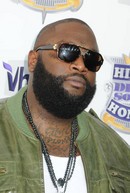 Rick Ross has beaten rap rivals Drake and Kanye West to land the title of Hottest MC in the Game in a new MTV poll.

The hit-maker was named the best rapper alive in the annual MTV survey, thanks to the chart success of his album Self Made, Vol.1, and his features on a number of hit tracks, including Lil Wayne's John and Meek Mill's Ima Boss.

Ross was followed by Drake in second place and West in third. Nicki Minaj and her mentor Lil Wayne rounded out the top five in fourth and fifth place, respectively, while Jay-Z and Wiz Khalifa also make appearances in the top 10.

Speaking about the honor, a proud Ross says, "I just got the news that I was voted the game's Hottest MC, and man, it really means a lot to me, of course, but it's an honor. It's something I've been watching, something I've been a fan of forever. Of course, MTV, they run the game."