Rick Hoffman Previews Tonight's 'Suits' Finale: 'This Is Definitely The Episode To Watch'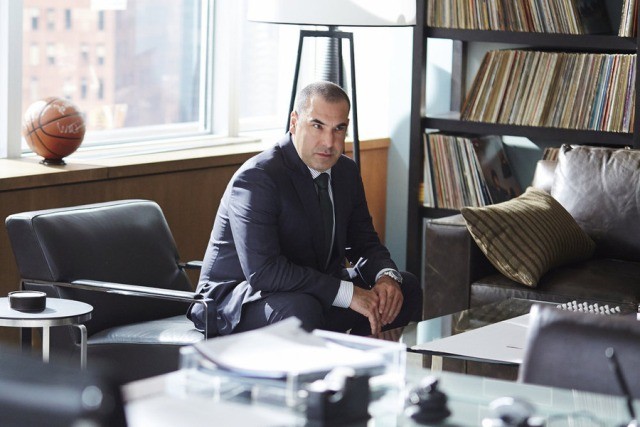 Has Louis Litt really left the building? After the events of last week's episode of Suits, it's hard to believe that the lawyer we loved to hate (and secretly loved) has fallen so far in season four. But there's still one more episode to go - tonight's midseason finale.
So we spoke to Louis himself, Rick Hoffman, on Wednesday morning to discuss filming the big moment in "Gone," what he thinks of the dynamics at Pearson Hardman, and how Louis is going to come back...right?
(SPOILER ALERT - If you're not caught up with last week's episode of Suits, and/or don't want to know absolutely anything about tonight's midseason finale, skip this interview and come back after "This Is Rome" airs tonight.)
As Rick told us in our talk before the season started, people are creatures of habit. Louis's motivation has always been, at heart, for the best of his firm and the approval of his colleagues. And that need got him into serious trouble in season four, when shady Charles Forstman (Eric Roberts) - the investor your parents warned you about - trapped Louis into committing embezzlement to complete a deal necessary to save the day. Though Louis was able to legally get off the hook with some help from Harvey, in Jessica's mind, the damage was done.
Louis's departing monologue at the end of "Gone" was positively heart-wrenching, so how difficult was it for Rick to actually say the words? "It was extremely tough," he told us. "because I had to do it actually in Italy. I was visiting Italy with my family and I had to do the voiceover from Florence. It was an interesting sort of way to do it. I had already been maybe two weeks away from doing that episode and had already done episode ten.
"Everything that they've had me do [with] this character, there hasn't been really anything easy," he laughed. "It's really been the most thrilling yet scary challenging time as an actor to be asked to do these things in your job...I can only hope that people appreciate it and really feel for the guy. That is really what you wish for as an actor."
Suits definitely knows how to exit a character, though. Sarah Rafferty made us cry when Donna was fired, and then Patrick J. Adams got the big moment as Mike quit - so was Rick hoping for a departure that stacked up to those two previous events? "Of course, and I got one!" he said. "When we all read the script, no one saw it coming that he was actually going to resign."
He might not have known the ending, but he was privy to where Louis's excellent journey was headed. "I kind of knew early," he revealed. "That's one of the wonderful parts of working with Aaron Korsh. When Aaron gets excited about storylines, he likes to share them with us.
"And I got excited. Because the writers, they've really just had this take no prisoners attitude since day one. And it's fun for everybody. They don't make these conventional choices." (Remind us how these writers haven't even been nominated for an Emmy yet? Yeah, we don't get it either.)