Rick Hoffman On 'Suits' Season 4: 'I'm Having A Blast'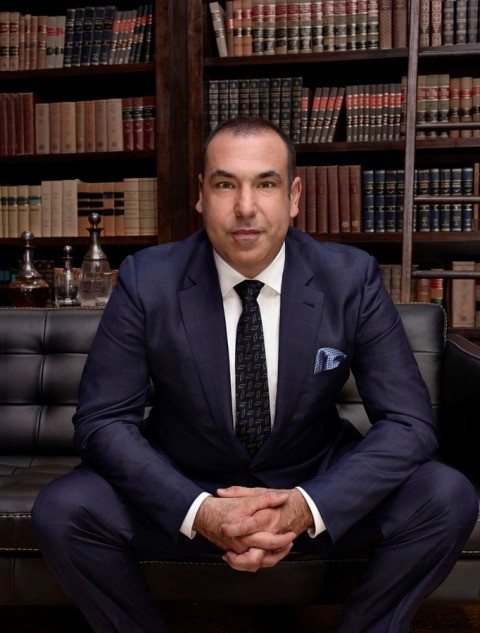 Suits is returning tonight with a top-notch season premiere - and before we get too ahead of ourselves, we recently asked series star Rick Hoffman for his perspective on what's ahead, as well as what he thought of the turbulent way his character Louis Litt ended the third season.
Louis got a particularly rough break at the end of the third season, as the episode "Heartburn" saw him suffer a likely long overdue heart attack, then become engaged to longtime love Sheila (recurring guest star Rachael Harris), only for her to break off the engagement when they disagreed over whether or not to start a family. It was a lot for any character to take. When he got that script and found out about the heart attack, was Rick ever concerned for Louis's safety?
"As actors, for the most part, there's that neuroses most of us possess where in a day of watching this character get killed off of this show, and that character get killed off of that show, one never knows," he told us.
"In this particular case, when I read the script, I was completely thrilled just because it was such a real believable type of moment for that particular character. He's out of shape even though he thinks his body is a temple. [He's in a] high-stress environment constantly. It made perfect sense for me.
"As far as being scared for my job, no, not in this case," he added.
Since season four picks up just three months after the end of season three, will we see any ramifications from these major effects in Louis's life? "You actually do see some ripple effect of that, but in a very unconventional way," Rick hinted. "The ramifications of Louis and Sheila's breakup have some effect in another story."
The end of that relationship prompts another interesting question: the Louis and Sheila romance provided an opportunity for the audience to see a softer version of the often very abrasive Louis. With them no longer an item, we asked Rick if there would be anything in season four to replace that and maintain Louis's more likeable side. "Yes," he told us. "There will be other warm fuzzies."
Louis also lost his right-hand woman, Katrina Bennett (recurring guest star Amanda Schull), when Jessica fired her in season three. Since then, it's been announced that Schull will be a regular on SyFy's upcoming 12 Monkeys. Given those two pieces of information, we asked Rick if there was any hope for a Louis-Katrina reunion.
"Katrina is a major part of our show," he said, pointing back to the moment where Jessica (Gina Torres) admitted that she did the wrong thing in firing Louis's associate as a possible hint about her fate. "You assume that Katrina's going to be back.
"The fun characters are usually kept around this show. [Suits creator] Aaron Korsh is the real deal when it comes to writing fun characters, and very smart to keep them around."
What would Rick call his proudest moments from season four? "I've had several moments that I've wanted family members to not miss, or friends in the business that I respect to not miss, just because of the fantastic work that all six actors are doing," he said, adding, "If there was one coming up, I would say I'm very excited about one particular scene with Gabriel [Macht]."
"Without giving anything away, there is a new character that I have had complete enjoyment working with and wish there could be more [of]. Not sure if there will be, but man, have we had fun," he continued.
"As usual, my five regular castmates [are great and] the writers just keep writing new, different storylines that somehow keep everything fresh and fun. I just want the show to keep going. I'm having a blast in every aspect!"
Is there anything important he wants us to know about the fourth season of Suits? "Just that we are creatures of habit," he explained. "And some of those habits are good and some of them are terrible. And people sometimes can't change who they are.
"As much as you think one may learn, you are who you are, and somehow this season kind of accentuates that. The characters, some seem to thrive based on who they are and some don't."
Since we've just been talking about our Top 10 Television Lawyers, we also asked Rick which fictional litigator he'd want coming to his defense, and his answer will totally not surprise you. "Harvey Specter," he told us. "Hands down."
Suits premieres its fourth season tonight at 9 PM ET/PT on USA; for our thoughts on the premiere episode, click here. For more on Rick, be sure to follow him on Twitter (@RickHoffman_). Tune back into Starpulse weekly for our recap and reviews of every Suits episode!