Richie Ramone Sets Out Solo With New Album 'Entitled'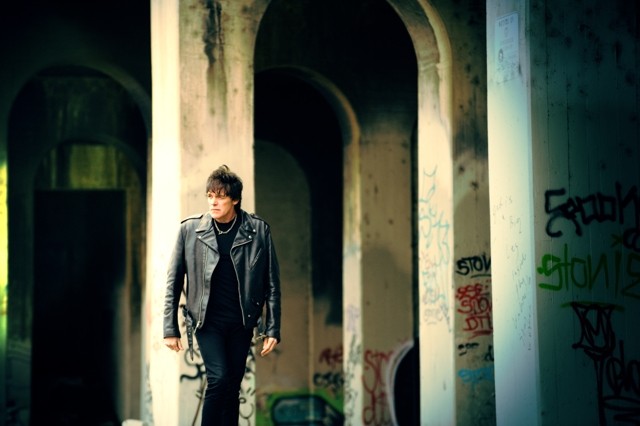 What's it like to be part of one of the biggest bands in rock music, and then launch a solo career? Richie Ramone is finding out. We know him as the drummer for The Ramones, but now he's dropping his first solo record, Entitled. As he began his tour in support of the album, Richie answered a few questions for BFTV about the project and his journey.
"The album is out now on DC Jam Records and the buzz on the street is a positive one," he said. "Entitled is my first solo effort, and the world tour is just beginning, and my band is explosive."
"I think the entire album is a great piece of work, and really tells a fundamental story of who I am, and where I may end up," Richie continued. "Entitled is an album that can take you to a dark place with just a few spins, and make you remember things about your life that you may have forgotten. 'Take My Hand,' 'Entitled' and 'Forgotten Years' are just a few of my favorite tracks."
What he hopes his audience takes away from the record is pretty simple. "Entertainment. That's why we make records and tour the world," he told us. "I just want the fans to have a great time at my live shows and walk away saying 'Wow, that was awesome.' Commercial success is overated and should never be a goal."
Now that the music has been made, Richie is setting his sights on a successful tour, bringing his latest live to audiences around the country. "I can't wait to play New York City, where most of my friends and family are," he said. "Also, the first video from the record will be released any day now, for the song 'Criminal.' Directed by Steven Hanft, the video is shot in black and white and has a Hitchcock feel to it."
The release of Entitled is the next step in a lengthy musical journey that began, as it does for many musicians, during childhood. "Looking back, I realize what a great job my parents did raising me in Passaic, New Jersey, and letting me become who I am today," he reflected. "I was a real brat as a kid, so I know it was not easy on them. They found me a private drum teacher when I was five years old, and kind of let me find my own way.
"I am grateful for what I have accomplished, and blessed to have been with one of the greatest rock bands of all time," he added, telling us, "You never look back and question if you did the right thing or made the right decision with anything in life. That will take you straight to hell, because self-doubt is a killer. Make your decision and own it."
"Nothing is easy in the music business, but being in The Ramones for five years has helped," Richie continued. "I really don't feel the pressure or even have a thought or care about that. Getting the word out on the streets that you are alive and well is probably the most difficult [thing] to achieve."
So what one piece of advice would Richie give us from his enviable career? "Never take anything or anyone for granted. You must stay intense, stay in shape and keep the edgy attitude that got you here in the first place. Once you lose focus, you might as well give it up," he concluded. "My family, friends and the attitude with [which] I approach life now keep me going. You must enjoy what you have, and not be influenced by what other people possess. We get only one ride on this earth, so make the best of it."
Entitled is available now. For more on Richie, visit his official website (richieramone.com) and official Facebook page (facebook.com/RichieRamoneOfficial).
(c)2013 Brittany Frederick. Appears at Starpulse with permission. All rights reserved. No reproduction permitted. Visit my official website and follow me on Twitter at @tvbrittanyf.