'Richard Hammond's Crash Course' Returns for Season 2
Top Gear presenter Richard Hammond is back in the United States to try out a new handful of career choices in the second season of Richard Hammond's Crash Course, which starts next week on BBC America.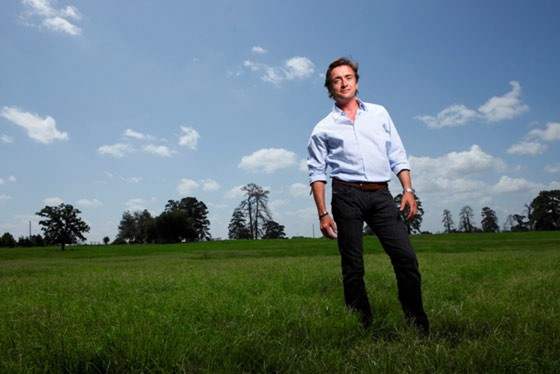 Last time around, he endeavored to learn about a handful of blue-collar jobs: driving an Abrams tank with the Army, operating a Striker with the fire department, logging, working at a landfill, salvage and demolition. Some of the jobs on Richard's list this season are stand-up comedian, barber, snake wrangler, taxi driver and, in the first episode, stuntman. The focus of the show seems to have shifted from 'America's toughest jobs' to a cross-section of both normal gigs and downright odd ones.
Crash Course has also gotten a bit of a facelift for its sophomore season. The show has new opening titles, a new theme riff, new graphics and has changed its format. Gone is the "pass/fail" element of the series; rather than being tested on his new job skills at the end of each episode, Richard works through a short list of specific goals. For example, in the premiere, he learns about fighting, falling, fire and vehicular stunts.
What hasn't changed is the host, who remains one of the best TV personalities working today. It's the presence of Richard Hammond that pushes Crash Course head and shoulders over any other 'host tackles somebody else's occupation' type series. It's apparent why he's hosting every other show on the BBC. He's affable and self-deprecating, and explains things to the audience in a relatable way. He's not playing; he genuinely wants to learn whatever he's being taught. He's also unafraid to cop to a fear of heights or a concern that stunt driving might lead to repeating the aftereffects of his horrific 2006 Vampire dragster crash. The audience isn't just watching Richard; we're experiencing these new things along with him.
In the 'Stuntman' episode, he learns from a handful of stuntmen whose collective credits include The Dark Knight Rises, the Mark Wahlberg/Edward Norton remake of The Italian Job, Wolfgang Petersen's Poseidon and the action-heavy TV show 24. These folks do not mess about - but they're also welcoming and encouraging to the newcomer in their midst, something that's proven crucial to the success of Crash Course. The stuntmen are genuinely interesting and explain just what it takes to do some of the stunts an average movie audience probably doesn't think twice about. As with last season, the viewers will learn that there's a lot more to some of these occupations than one might think.
"It's based on surprise," Richard said, describing the series in an interview before last season's premiere. "One of the things I had to do was sort of throw myself into the deep end in the American workplace. How difficult some of it was, how welcoming people were...there were a lot of surprises." There are plenty more surprises - and accomplishments - ahead for Richard in the new season of Crash Course, which looks different but still ought to teach the audience a thing or two.
Season two of Richard Hammond's Crash Course premieres next Monday, October 22, at 10 PM ET/PT only on BBC America.
For more from Brittany Frederick, visit Digital Airwaves and follow me on Twitter (@tvbrittanyf).
(c)2012 Brittany Frederick/Digital Airwaves. Appears at Starpulse with permission. All rights reserved. No reproduction permitted.