'Richard Hammond's Crash Course' Recap: 'IndyCar Pit Crew' (2.04)
For one of the hosts of the world's most popular car show, which has required him to do car maintenance and do several segments on motorsports, being part of an IndyCar pit crew should be easy, right? Not exactly.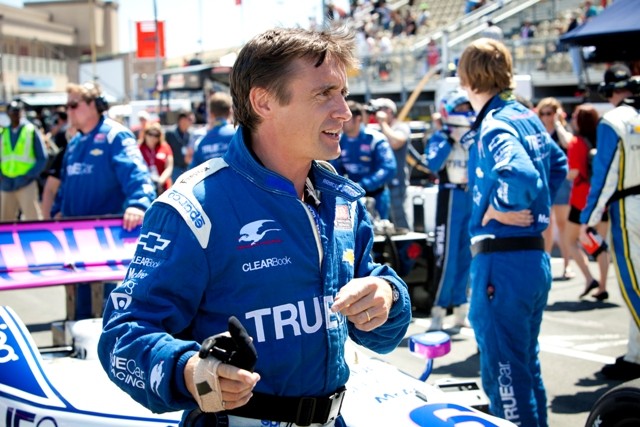 In this episode of Crash Course, Richard Hammond is in California joining Didier Francesia's Dragon Racing pit crew. Richard explains that the average IndyCar pit stop takes eight seconds or less, and that to make the team he'll have to try every position on the roster.
The first thing he has to do is learn to fuel the car, which should be easy, but he has a hard time getting the forty-pound hose to connect with the car. No sooner has he figured that out then it's time to move on to changing tires. Didier hands Richard the pneumatic jack used to lift the vehicle, and while Richard can get that one in, he can't get it out. When it comes to actually swapping tires, it takes Richard nearly half a minute to change one, more than four times what's expected of professional pit crew members. Needless to say, Richard's ego is quickly deflating.
This calls for an upbeat montage, where Richard gets in some more tire changing practice while the pit crew pushes the car to simulate its rolling, and swears quite a bit. "So far, I can't seem to get up and running," he laments in voiceover, before seriously telling Didier that he doesn't want to be "the weak link" that lets the whole team down. Didier's response to that is giving him a tip - teaching him how to remove a tire with one arm while simultaneously moving the new one into position with his other - that helps him drop his tire-change time below the required seven seconds. Having done that, Richard secures his place on the Dragon Racing team for their upcoming Sonoma race.
The day before the race, the team arrives in Sonoma, where Didier assigns Richard to be the inside front tire changer on the team's second car, introducing him to his new crew chief Jeremy Johnson. As a congrats for making the team, they let him drive the primary car, all $1.2 million of it, out of the garage and to its pit stall, which he manages to do without incident (possibly because its actual driver, Sebastien Bourdais, is sitting on it while he does).
After that, Richard's off to work for Jeremy and driver Katherine Legge during their practice. Mark Houston, the front-end mechanic, was one of the folks who helped train Richard earlier and "thinks I actually know what the hell I'm doing," Richard tells the audience, though he himself is much less secure. His tire change takes more than eight seconds, which is a second more than it should. Mark tells him that he needs to be on the nut already when the car comes to a stop in the pit stall. Despite trying to get into better position, Richard adds to his time in his second attempt, making the change in nine seconds. "We'll be pushing you more tomorrow," Mark warns him.
The team decides that Richard needs to get out on the track for himself, and stick him in a two-seater vehicle with the legendary Mario Andretti, who was named Driver of the Century in 2000. With Mario doing the driving, Richard gets a great sense of what really happens to a car on the racetrack, and is even more determined not to screw up his responsibilities to Jeremy, Katherine and their team.
That brings the audience to race day, and Richard's invite to the race team's strategy meeting, which also includes the Dragon Racing team's owner, Jay Penske, who calls out Richard specifically as he talks about how important good pits stops are. "Just be consistent and execute today," he says. The CEO reinforces this in much more colorful language.
With just hours to go, Richard gets into the flameproof suit he'll have to wear during the race, telling the audience by voiceover that he happens to be the only rookie mechanic out of any of the race teams starting that day. This doesn't fill him with confidence as his first tire change takes nearly ten seconds and his second an even twelve. By the end of practice, Richard is panicking - not the state of mind one wants to be in before the race. "I'm just going to pray," he says while the cars set up on the starting grid.
All Richard can do is wait until Katherine brings her car in for a pit stop. When the moment finally comes on lap 21, his nerves get the better of him, accidentally letting the old tire get away from him, which keeps Katherine in the pit stall until it can be removed from her path. On lap 44, he gets a second chance, and again forgets to pass the tire, but at least it's close enough that Mark can grab it before it gets away. Then things get worse: Katherine reports car trouble, and Richard is benched while the team tries to figure out why she can't find neutral. Unfortunately, they don't have a solution, as Katherine climbs from the car and pulls out of the race. As if that's not bad enough, Sebastien crashes later on, making it a sad day all around for Dragon Racing.
Back in the garage, Richard tells Didier his time with the team has been "an insight to motorsport" and is told that he's welcome back any time. One thinks, however, that he won't be giving up his job on Top Gear for the pit crew life anytime soon.
For more from Brittany Frederick, visit Digital Airwaves and follow me on Twitter (@tvbrittanyf).
(c)2012 Brittany Frederick/Digital Airwaves. Appears at Starpulse with permission. All rights reserved. No reproduction permitted.