Richard Grieco Owes $44,000 In Back Taxes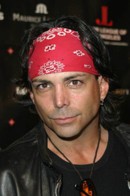 Actor Richard Grieco has been hit with a demand for more than $44,000 in delinquent taxes.
 
Internal Revenue Service officials filed a tax lien against the former 21 Jump Street star on September 7th in the Los Angeles County Records of Deeds.

The papers, obtained by the Detroit News, suggest Grieco owes $44,270 in unpaid taxes.

Grieco starred as Detective Dennis Booker on police drama 21 Jump Street - the TV show that launched Johnny Depp's career.