Richard Gere's Guitar Auction Raises $936,000 For Charity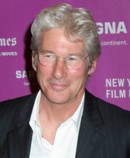 Richard Gere has raised more than $900,000 for humanitarian charities after selling off his beloved guitar collection.

Musicians including Steve Miller and Karen Elson were in the crowd at Christie's auction house in New York on Tuesday as Gere sold his 107-strong collection.

The instruments, amassed since the actor was a child, included several top branded pieces such as Gibson and Fender and guitars once owned by blues legend Albert King and Jamaican reggae musician Peter Tosh.

The biggest draw of the sale was Gere's Les Paul electric guitar by Gibson, which went for $98,500 - boosting the total to $936,438, according to Bloomberg News.

In a statement, Gere says, "Without ever thinking I was putting a collection together, there seems to be one. I just bought what I liked, what sounded good - what played well."