Richard Gere & Terrence Howard Star In 'The Hunting Party' on DVD Jan. 22

Golden Globe® winner
Richard Gere
(
Chicago
,
Unfaithful
) and
Terrence Howard
(
Crash
,
Hustle & Flow
) star as a veteran hot-wired TV reporter and an adventure-seeking cameraman trying to get the scoop of a lifetime-- and hoping they live to report it-- in
The Hunting Party
.
Joined by a rookie reporter and a petty thief, played by
Jesse Eisenberg
(
The Squid And The Whale
) and
Diane Kruger
(
National Treasure
,
Troy
), they embark on a dark and dangerous mission that takes them deep into hostile territory as they search for a missing war criminal. The thriller from Emmy-award winning director Richard Shepard (
The Matador
), is loosely based on the Esquire article 'What I Did On My Summer Vacation,' about journalists fronting as a CIA hit squad tracking down a Bosnian war criminal.
Special Features
- 6 Deleted Scenes With Optional Commentary
- Audio Commentary By Director Richard Shepard
- Making The Hunting Party
- From Journalism To Film: Director Richard Shepard Interviews The Writers Of The Original Esquire Article
- "What I Did On My Summer Vacation": The Original Esquire Article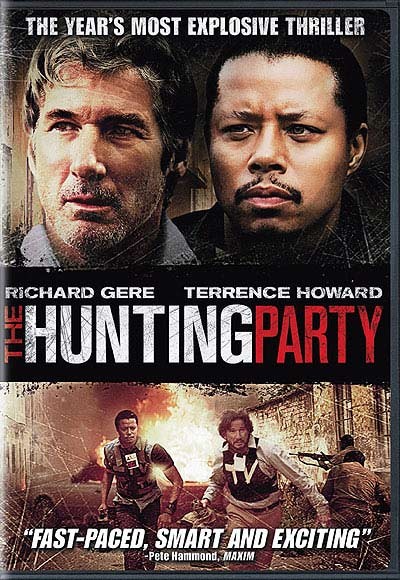 About Genius Products: Genius Products, Inc. (OTCBB:GNPI), along with The Weinstein Company Holdings LLC, together owns Genius Products, LLC, a leading independent home-entertainment distribution company that produces, licenses and distributes a valuable library of motion pictures, television programming, family, lifestyle and trend entertainment on DVD and other emerging platforms through its expansive network of retailers throughout the U.S. Genius handles the distribution, marketing and sales for such brands as Animal Planet, Asia Extreme(TM), Discovery Kids(TM), Dragon Dynasty(TM), Dimension Films(TM), Entertainment Rights group companies (Entertainment Rights, Classic Media and Big Idea), ESPN®, IFC®, RHI Entertainment(TM), Sesame Workshop®, TLC, The Weinstein Company® and WWE®. Genius Products, Inc. is the managing member of Genius Products, LLC, in which it holds a 30% equity interest.
About The Weinstein Company: The Weinstein Company was created by Bob and Harvey Weinstein, the brothers who founded Miramax Films Corp. in 1979. TWC is a multi-media company that officially launched on October 1, 2005. Dimension Films, the genre label that was founded in 1993 by Bob Weinstein, is also included under TWC banner. The Weinsteins are actively working on the production, development and acquisition of projects for TWC.