Rhys Ifans Demands Filming Breaks To See Anna Friel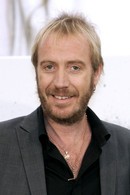 Actor Rhys Ifans has negotiated a condition in his movie contracts to ensure he gets to see his girlfriend Anna Friel every three weeks during filming.

The Notting Hill star has been dating the Pushing Daisies actress since the beginning of 2011, following her split from David Thewlis.

Ifans is currently busy with film work, including the Spider-Man reboot, and is away from the couple's native Britain for long periods of time.

But he demands studio bosses include a clause in his contract ensuring he is given every third weekend off during shooting so he can spend some precious time with his beloved partner.

He tells Britain's Daily Express, "When you're in love - and I'm in love - being apart and in different time zones can be tough.

"I've reached a point in my career where I can demand certain conditions and one of them is a weekend break every three weeks during the shoot.

"We call it the 'three week rule'. Acting is a tough job with long unsociable hours, although it can be a brilliant job too. I don't want to complain too much as nurses, farmers and teachers are out working long hours."