Rhona Mitra Sued By Motorcyclist Over Crash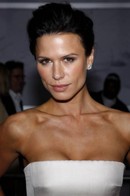 Rhona Mitra is facing legal action from a motorcycle rider who claims she suffered severe injuries in a collision with the actress' car earlier this year.

The Practice star is accused of crashing her SUV into the female rider's bike in Venice, California back in March.

The unnamed woman has filed a lawsuit at Los Angeles Superior Court, demanding compensation for her injuries and repairs to her motorcycle, according to TMZ.com.

A representative for Mitra tells the website police officers believe the actress did not cause the crash and that insurance companies for both sides are currently in negotiations to resolve the dispute.