Rhona Mitra Stars In 'Doomsday,' Own The Unrated Version On DVD & Blu-Ray July 29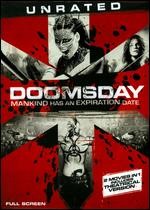 From the director of
The Descent
comes an action-packed thrill ride through the beating heart of hell! To save humanity from an epidemic, an elite fighting unit must battle to find a cure in a post-apocalyptic zone controlled by a society of murderous renegades.
Loaded with ferocious fights and high-octane chases,
Doomsday
grabs you right from the start, and doesn't let go till its explosive end!
Rhona Mitra
,
Malcolm McDowell
and
Bob Hoskins
star in this futuristic thriller.
Doomsday
is loaded with extras that take you inside the making of the film, including:
-Anatomy Of Catastrophe: Civilization On The Brink -Writer/Director Neil Marshall takes you inside the making of
Doomsday
. Meet the enormous cast and crew, experience the challenges and endurance it takes to bring a film of this massive scale to the screen and break down how all of the major stunts, explosions and fight sequences were executed.
-The Visual Effects Of Doomsday - Meet the visual effects wizards and see how they collaborated with Director Neil Marshall to achieve his vision in creating the compelling sets that couldn't be built but were instead created by computer.
-Feature Commentary (Unrated Version Only) - Filmmaker Neil Marshall and cast members Sean Pertwee, Darren Morfitt, Rick Warden and Les Simpson.
-Original Theatrical Version
Watch the trailer:

Bonus Content (Blu-Ray™): The Ultimate Hi-Def Experience!
-Exclusive U-Control: Go Beyond the movie and customize you own hi-def experience.
-Reaper Virus Files - While you watch the movie, crack open top-secret DD intelligence files.
-Picture In Picture - Access interactive cast and crew interviews and behind the scenes footage, all without interruption to the movie experience.
-Tech Specs - Get in-depth technical specs on the film's awesome Bentley and outrageous weapons as you see them in action.
-
Win a copy of "Doomsday"!