Rhino To Release Limited Edition Led Zeppelin Box Set

Atlantic Records/Rhino Entertainment will release a limited- edition CD boxed set containing Japanese imports of all 10 of the
Led Zeppelin
's albums in mini-LP replicas with artwork from the original U.K. LP sleeves.
The mini-LP replicas CD boxed set includes
Led Zeppelin
(1969),
Led Zeppelin II
(1969),
Led Zeppelin III
(1970),
Led Zeppelin IV
(1971),
Houses of the Holy
(1973),
Physical Graffiti
(1975),
Presence
(1976),
The Song Remains the Same
(1976),
In Through the Out Door
(1979), and
Coda
(1982). The sleeves included in the boxed set feature the original LP album artwork released in the U.K., including the original printing of the group's debut, which used turquoise ink on the cover for the band's name and the Atlantic Records logo. Additionally, the set includes all six covers released for
In Through the Out Door
, Led Zeppelin's final studio album.
Led Zeppelin Definitive Collection Listening Party:
Real
|
Quicktime
| Windows
Lo
|
Hi
The Led Zeppelin Definitive Collection Of Mini-Lp Replicas boxed set will be available on November 4.
*UPDATE: The Led Zeppelin Box Set release has been moved to November 11*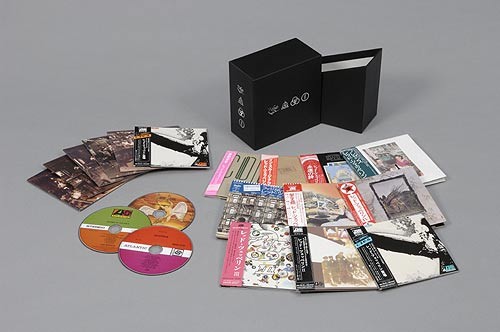 Listening Party Track list:
Good Times Bad Times
No Quarter
Whole Lotta Love
Kashmir
Heartbreaker
Nobody's Fault But Mine
Rock And Roll
All My Love
When the Levee Breaks
Led Zeppelin
Official Site
|
MySpace
Click the pics for gallery & larger images