Rhino Gives Standing Ovation To Linda Eder

It's common for female singers to cite
Barbra Streisand
and
Judy Garland
as their influences, but it's quite a rare occurrence to encounter a woman who can take the songs of such legends and make them her own.
In her 26-year career,
Linda Eder
has far surpassed the role of admirer and has taken on Carnegie Hall, the Gershwin theater, and nearly all the stages of Broadway to become recognized as one of the great contemporary solo voices. Rhino Records applauds the Broadway great with a career-spanning, single-disc collection of her work.
Linda Eder: Greatest Hits
will be available January 29.
Linda Eder: Greatest Hits
contains 15 remastered tracks from four albums recorded between 1995 and 2003 and features selections from
The Complete Jekyll & Hyde: The Gothic Musical Thriller
(1995),
It's Time
(1997),
It's No Secret Anymore
(1999), and
Broadway My Way
(2003).
Linda was eight years old the first time she saw the
Wizard Of Oz
on television, and it hit her like a twister when Judy Garland sang "Over The Rainbow," and just like in the movie, Eder's world went from black-and-white to Technicolor. "I can remember the room; I can see the ugly shag carpet we had growing up. It was a pivotal moment in my life, because it gave me that desire for something I really wanted to do. If you want it badly enough, you make it happen, and she's what really kick-started it [for me]."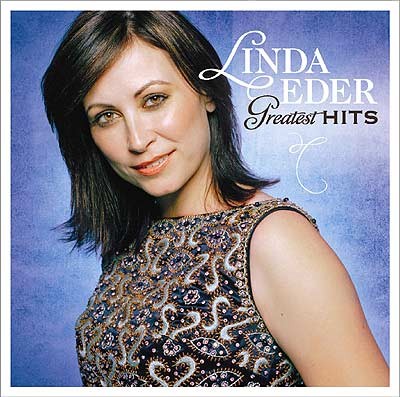 Track Listing:
1. Don't Rain On My Parade (from
Funny Girl
)
2. I Want More
3. Unusual Way (from Nine)
4. Man Of La Mancha (I Don Quixote) (from Man Of La Mancha)
5. What Kind Of Fool Am I? (from Stop The World, I Want To Get Off)
6. Some People (from Gypsy)
7. Bring On The Men (from Jekyll & Hyde: The Gothic Musical Thriller)
8. Anthem (from Chess)
9. Over The Rainbow
10. Havana (from Havana)
11. A New Life (from Jekyll & Hyde: The Gothic Musical Thriller)
12. Vienna
13. Someone Like You (from Jekyll & Hyde: The Gothic Musical Thriller)
14. I Am What I Am (from La Cage Aux Folles)
15. Something To Believe In (Fitch Brothers radio edit)
Current List Of Us Tour Dates
December 7, 2007 (Fri) Palm Beach, FL Palm Beach Community College
December 8, 2007 (Sat) Boca Raton, FL Florida Atlantic University
December 13, 2007 (Thur) Cleveland, OH Palace Theater
December 15, 2007 (Sat) Marlton, NJ Lenape Regional Arts Center
December 20, 2007 (Thur) Uncasville, CT Mohegan Sun Casino
December 21, 2007 (Fri) Uncasville, CT Mohegan Sun Casino
December 22, 2007(Sat) Uncasville, CT Mohegan Sun Casino
December 28, 2007 (Fri) Aspen, CO Wheeler Opera House
January 19, 2008 (Sat) Sarasota, FL Van Wezel Performing Arts Center
February 16, 2008 (Sat) Dallas, TX Hilton Anatole w/Michael Feinstein
February 23, 2008 (Sat) Rosemont, IL Rosemont theater
March 1, 2008 (Sat) Marietta, GA Jennie T. Anderson theater
March 27, 2008 (Thur) Palm Desert, CA McCallum theater
March 28, 2007 (Fri) San Francisco, CA The Palace of Fine Arts
-
Linda Eder Listening Party
(Streaming audio and/or video links may expire without notice)