'Revolution' Recap: 'The Night The Lights Went Out In Georgia'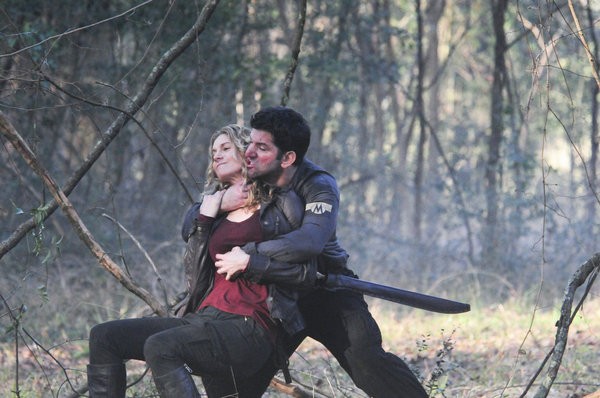 "Must be what God feels like," muses Rachel's old friend Jane (Kate Burton), referring to the two Militia men whose faces she melts off thanks to a high tech phaser. While the comment most certainly seemed to be a backhanded one to Rachel in regards to her role in the blackout, Jane might as well be speaking for the entire post-apocalyptic Revolution world, as at least three characters in this episode experienced instances of "God-like" power personas.
Just as the show is traipsing through states and showing us new parts of the world outside of the Monroe Republic (Welcome to Georgia), with each episode, Revolution seems to be finding its footing on steadier ground. "The Night The Lights Went Out In Georgia," written by Paul Grellong (who always turns out a nice hour) provided us with a sufficient mix of action and drama, balancing backstory, combat, and, as has become custom, resolution. What's great about watching Revolution give up its answers (which it then follows up with more questions) is that you feel that the show is constantly building towards something bigger. The answers that you get don't cause you to feel that you know the whole story, but rather, that you're just a little bit more intrigued to have another piece of the puzzle slide into place.
It's sort of the way we feel as we start to get some informed backstory on the real history of former General Miles, whose Militia past has thus far only been hinted at through the relationships of others. This episode gave us a glimpse of just how ruthless he was while he was in charge – and while this seems no different from the way Monroe now rules, we also saw why Miles has so much guilt when he thinks about his past. The theme of guilt has a been prominent one throughout the season, specifically where the stories of Rachel and Miles are concerned, and this was an episode that weighed heavily on the history of Miles' transgressions  – which only served to make its final moments more interesting. Billy Burke turned in a really wonderful performance in this episode, making me excited for what's to come for the character.
Revolution has proven time and time again that while you may be able to change who you are, and perhaps even redeem yourself, you can't truly run from your past. It's a roadblock faced daily by Rachel, and one that Miles was reminded of tonight with the re-acquaintance of an old friend. In flashbacks that showed us a bit of Miles during his days as General, we were able to watch as his relationship with Alec (Dayo Okeniyi) deteriorated into a situation not unlike what occurred between Miles and Monroe, or, to draw from a more current parallel, Monroe and Neville. The span of time between the flashbacks that detailed Miles and Alec's close friendship and cold dismissal was just two years – but in a world where every minute counts for survival, two years can mean everything. And so we shouldn't be surprised to find Miles less than sympathetic when he sacrifices his friend by shipping him off to Texas without a second thought about what terrible things might happen (what is it about Texas?)
But these flashbacks serve to show just how much Miles has grown since his time with the Militia. When Charlie steps out of the bounds of the Monroe Republic, she looks back wistfully before admitting she's never been so far away from home before. The line (and Miles' reassuring, if not appropriately sarcastic response) immediately reminded me of Sam and Frodo in The Lord of the Rings, when Sam is scared to leave home for the first time. It's not entirely out of bounds to draw a parallel between Frodo and Sam's friendship and the one that exists between Charlie and Miles, especially when Alec makes a point to goad Charlie about how Miles is only using her for his own agenda. With Maggie, Ben and Danny dead and with Rachel (temporarily) out of the picture, Charlie's trust in Miles - and subsequently, Miles' protection of Charlie - is more important than ever, and I enjoy that the show continues to cultivate this relationship through small scenes like this one.
For a character that had the potential to have more of a predictable past, I'm extremely intrigued about what else is contributing to Miles' guilty conscious. We're already aware that there's a somewhat sordid (if not juicy) history between Miles and Rachel, and according to Georgia Governor Kelly Foster (Leslie Hope), there seems to be some bad blood in that relationship as well. It should be noted that this hour was our first introduction to Foster, whom I believe will be sticking around for awhile, and for all intensive purposes the governor seems to be airing on the side of good. Still, given her eagerness to show Monroe a matched fight, I can't help wonder if Foster might turn out to be just as power hungry as the Militia head. I have a feeling she knows exactly what having the ability to power an army will do to Miles, and will continue to push him back towards his dark side just as Monroe tried to do earlier in the season.
While Miles, Charlie and Nora struggled with the literal baggage that came with finding Monroe's nuke, Rachel and Aaron continued their journey to the Tower by way of another old friend of Rachel's – a woman named Jane (Grey's Anatomy's Kate Burton) whom Rachel insisted was important when it came to securing information that they needed to completely their mission.
The exchanges between Rachel and Jane provided us with the biggest answers of the hour  as the curtain was pulled back on the mystery behind the interesting but mysterious looking capsule Rachel pulled out of Danny's body. Apparently, in addition to keeping the power on, the nanites (which, as you may remember, are everywhere) have some sort of healing ability that allows them to cure diseases or health issues. And while Rachel had been using this to supposedly keep Danny alive (lest anyone forget the scene with Rachel and Ben sending their son into surgery while telling themselves that they hoped "something" would work), her friend Jane has been doing the same thing, using them to keep her friend Beth (Avis-Marie Barnes) alive despite a stage-four cancer diagnosis.
Talk about playing God. But I think the information about the properties of the nanites is an interesting addition, and it makes me wonder what else these highly advanced creations can do. And does anyone except Rachel and those who were involved in the project know about these other properties? I'm guessing not, otherwise we'd have an entirely new mutiny on our hands. Perhaps Rachel herself isn't even aware of the damage and/or good they could cause in the world (writers, explore this!)
Naturally, Jane is against Rachel's plan to turn the lights back on at the expense of losing her friend, which in turn gives us the opportunity for a great scene between Burton and Elizabeth Mitchell when we find Rachel once again faced with having to accept the mistakes of her past. I love that the writers seem to be recognizing that Mitchell can sell a scene even if she's simply having a conversation, and her nuanced performance continues to stand out, elevating the series to new levels of interest.
We don't go into detail about Danny's health, though I suppose we're to assume that the reason he needed an implant in the first place was due to his asthma. But, as usual, I can't help wonder if there's something more that we still don't know about Danny that could become of even greater importance to the Revolution mythology. And whether it's something big or not, let's not forget it would be something else Charlie probably doesn't know. We've just seen Charlie and her mother finally regain their relationship on a slightly less rocky terrain, so I can't imagine how finding out more family secrets will sit with our last Matheson child (and if my instincts are right, that's not the only family secret that we could possibly be seeing before the series wraps up its first season.)
Final Thoughts:
I find it both intriguing and empowering in the way Revolution portrays its women. The main protagonist is a woman, the person who holds all the answers is a woman, the governor is a woman, and some of the show's most interesting characters have been women. Not to mention, at one point, there seemed to be a theory that Julia Neville would overthrow Monroe. I'd love to see more focus on women as the show continues to move forward.
Is anyone keeping track of the amount of friends and random scientists Rachel knows or seems to run into? I'm well aware that the implication of this is supposed to be that Rachel and Ben were more involved than we ever thought, but I'm always surprised when more random people from the Matheson's past pop out of the woodwork.
David Lyons had some wonderful scenes tonight, reminding me how the actor always delivers no matter how much material he's given to work with. The way he was able both conceal and show the emotions caused by the implications of hearing that Neville had abandoned him? Perfect. While I'm glad to see Rachel out and about for numerous reasons, watching Lyons in this episode made me miss the interactions between the two, which would always be top-notch in terms of superior acting. I hope they get to reunite in some way soon.
What did you think of the episode? Sound off below!