Review/Interview: Utterly Original 'Sound Of Noise' Keeps Mediocre At Bay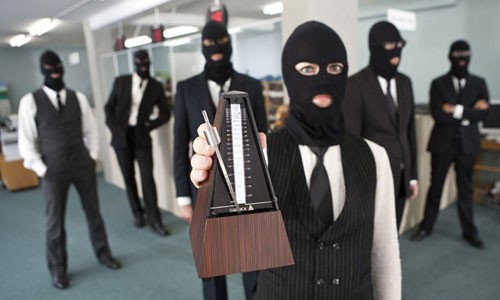 Manic mayhem inspired by...music?  Such is the unconventional and utterly original premise of the astounding five-star gem titled "Sound of Noise" (in theaters March 9 via Magnolia Pictures) from Swedish filmmaking duo Ola Simonsson and Johannes Stjarne Nilsson.  Beyond description (angry anarchists decide to take a powerful stance – play music in strange and illegal ways!), beyond genre (action, crime thriller, tongue-in-cheek comedy?) and so far above and beyond any release this year, "Sound of Noise" is the kind of experience that a real movie lover yearns for.  So in a firm salute to the best film of 2012 so far, we're not only giving our glowing review of the film, but also getting a little insight on the flick via directors Ola Simonsson and Johannes Stjarne Nilsson.  From category to chemistry, the two memorable directors share their thoughts via some one-on-one Q&A with Starpulse. (Plus LA fans can meet them in person at Cinefamily and even witness a drum battle of Ola vs. The Melvins!)  First up though – the review!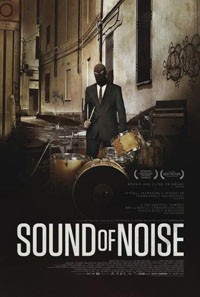 Title: "Sound of Noise"
   Stars: 5
   Genre: Drama/Action/Musical/Comedy/Crime Thriller
   Cast: Bengt Nilsson, Sanna Persson, Magnus Borjeson
   Director: Ola Simonsson and Johannes Stjarne Nilsson
   Rating: R
   Running Time: 102 Minutes
   Release Company: Magnolia Pictures
   Website: www.magpictures.com/soundofnoise/
Every once in a blue moon a movie comes along that dares to go so far with its originality that it defies genre description outright - it's in this realm that the breathtaking "Sound of Noise" is king.  A clever twist on all the conventions movie fans love, but with none of the crappy familiarity, "Sound of Noise" goes far beyond any expectations to create an experience that's by far the best of 2012 so far.
Police Officer Amadeus Warnebring comes from a well-known musical family, but having been born tone deaf, the single song holdout has always gone a different way.  Not to mention that years of being reminded how tune talented his family is has left a bitter taste in Amadeus' mouth and as a result he hates the very thought of music at all.  But he soon finds himself face to face with his musical foe in the form of a new case involving a disenchanted group of drumming anarchists running rampant and determined to be heard no matter what – illegal or otherwise.
There's a ton more hear then meets the eye, but it's what makes the sheer fun and joy in watching "Sound of Noise."  Like a song and dance flick on acid laced with some of the most creative music-from-nothing concerts to ever grace the screen, the film takes great pleasure in not being easily cinematically categorized.  But rest assured every story angle present is more enchanting and more engrossing then the next.  From the work of bitter Detective Bengt Nilsson to the crazy use of tires on a highway to keep a backseat drumbeat, there's just a ton going on within "Sound of Noise" that altogether keeps mediocre at bay.
I'm a movie fan who, after years of seeing the same recycled trite, is always on the lookout for something that goes beyond the norm and with "Sound of Noise" all my movie prayers have been answered.  Intrigue and anarchy with a pinch of foot tapping melody – the noise from this one is a cinematic sound like no other.         
Without further delay, here's the dynamic directing duo of...
OLA SIMONSSON AND JOHANNES STJARNE NILSSON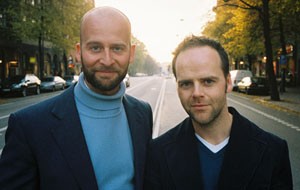 One of the things that makes "Sound of Noise" so amazing is how it doesn't fit neatly into a single cinematic category – how would you describe the film?
Ola Simonsson: It's a question we've had and we like to mix genres.  When we started writing the script we didn't think of genres, we just wanted to do a film we would like to see ourselves and to discuss some things about music and what people think about music.  I'm not really sure the audience has to know exactly what shelf in the DVD store you should find our film, but I probably would say it's a comedy.
Johannes Stjarne Nilsson: I think neither one of us come from film school to start with, we come from a very different disciplines.  Ola's a musician and I went to art school and we have known each other since we were seven years old and more or less have been playing since then having fun.  We worked very much from intuition and we throw ideas and those ideas would really stick – things that neither of us can shake off.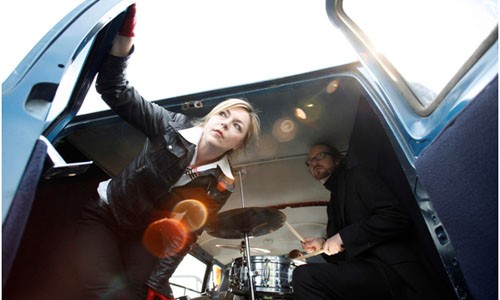 Was the drum music constructed prior to filming the scenes of various anarchist acts?  If so/not was it hard for the actors to play the various beats?
Johannes: We had to discover the music from the wrong end.  We had to start hunting for these sounds and record them – pretty much like in the film.  We recorded sounds for seven months and built a library of sounds that could potentially turn into music.  So it was actually a very long process that had to be paralleled with the script writing and development of the story.  So when we came to the actual shoot we all knew these beats and songs and instruments pretty much by heart.
Bengt Nilsson and Sanna Persson have an incredible chemistry – was there an instant connection or did you have to work with them?
Johannes: There was a connection definitely and we did some test shooting and we knew from the start we wanted Sanna in this part.  We knew also we had to find a good policeman that could embody all kinds of qualities that almost required a super actor.  When we found Bengt and did the test shooting it was perfect and they had a connection.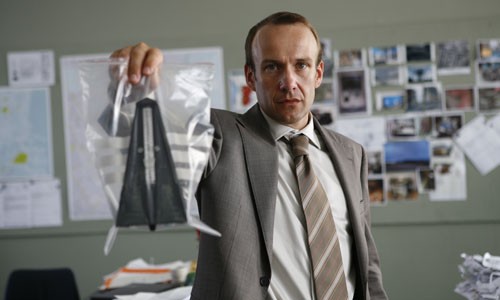 Since there are two of you directing how would you describe your collaboration – what is your process?
Ola: The process is we try to be very synchronized at the shoots.  Sometimes there are surprises, but those are rare cases – most of the time we know what we want.  Maybe the difference is that Johannes works closer to the camera and I work closer to the actors.  It saves time (laughs) and I hope the rest of the team thinks that too. 
There's a sort of twisted and askew end of "Fight Club" homage feel to one of the final scenes in your film – any film inspirations for you guys when making "Sound of Noise?"
Ola: I think we find a lot of inspiration from other things and not from cinema or films.  So this film we talked about and listened a lot to John Cage, his music, the way he wrote scores and in general the very free mind he had.  In his old days when he lived in New York his favorite music was to open his window and listen to the music from the traffic.  Because it was chance music and you could never knew if the music would go up or down or more or less.  It was a wonderful way to look at noise – to see it as music.  After a while when we worked with this film you go absolutely crazy.  When you start to listen to traffic and suddenly you hear a car horn or you hear a siren, sometimes it's great to listen to the world with musical ears, but sometimes you just get very tired of it.  My wife was mixing soup in the kitchen and I thought she's playing music, but she was just using the kitchen mixer.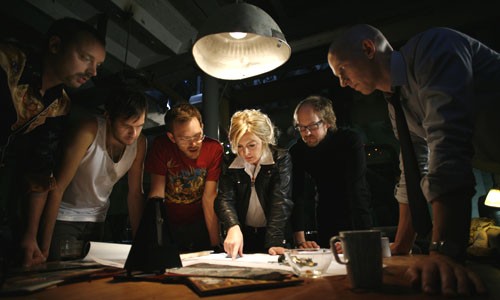 What's next for you guys?
Ola: We are making live concerts with the drummers and developing a longer show with them.  We've also been traveling a lot in Europe and other countries with the film and going to film festivals and we're developing a couple of new scripts.  Not with the drummers, but I think music will play a big role in everything we do.
"SOUND OF NOISE" OPENS IN THEATERS MARCH 9 FROM MAGNOLIA PICTURES.