Review/Interview: 'Fightville' Co-Helmer Michael Tucker On Capturing The Best In MMA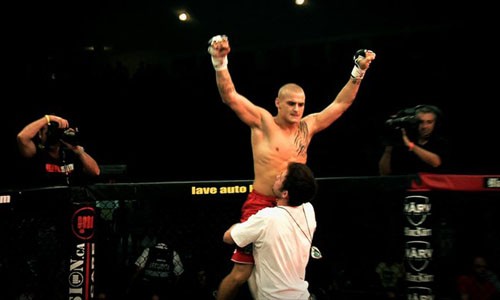 What does it take to be the best?  That's a question facing rough and tumble Mixed Martial Arts (MMA) fighters in the new documentary "Fightville," hitting select theaters April 20 from MPI Media Group.  The product of husband and wife filmmaking team Petra Epperlein and Michael Tucker (aka Pepper & Bones!), who also helmed such moving docs as "How To Fold A Flag" and "The Prisoner or: How I Planned To Kill Tony Blair," the film focuses on two up and coming MMA fighters Dustin Poirier and Albert Stainback as they try to reach the top of a very physical and mental sport.  We're celebrating the release of Fightville with a review of the film, plus a little Starpulse.com one-on-one chat with co-director Michael Tucker who talks about his desire to switch documentary subject gears, his thoughts on both fighters and what events have occurred since filming wrapped.  First up – review.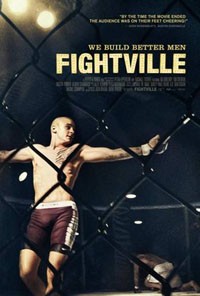 Title: "Fightville"
   Stars: 4
   Genre: Documentary
   Cast: Dustin Poirier, Gil Guillory, Albert Stainback
   Director: Petra Epperlein and Michael Tucker
   Rated: Not Rated
   Running Time: 85 Minutes
   Release Company: MPI Media Group
   Website: www.pepperandbones.com/_fightville/
To get personally involved with subjects of a documentary you have to be able to relate to their various plights or be engaged by the challenges they face.  What's so effective about the violent and focused subjects within "Fightville" is how both positives are clearly present, plus how the two featured fighters struggle tries to embody what all of us desire but hardly ever fully achieve – to be the best.
Dustin Poirier grew up a product of a broken home, but worse with a chip on his shoulder.  Constant fighting and run-ins with the law seemed to all but seal the future fate of the damaged kid.  But in a lucky turn of events, Poirier found focus, peace and surprising solace in MMA fighting and as a result uses his love of scrap to be a winner.  On the opposite side of the coin, Albert Stainback is more of a showman fighter, a technically skilled performer who brings theatrics to his persona in the form of a character reminiscent of Malcolm McDowell's Alex DeLarge from "A Clockwork Orange."  (He even plays the trademark 'Singing in the Rain' on the walk to the ring!)  Proficient but not die-hard driven, Stainback is more of a long shot.
Both fighters here have the skill to compete, but at the end of the day it's the hardcore focus of Poirier that grabs the most attention and success.  But what's also so fascinating about "Fightville" is the cast of characters that surround the weary subjects.  My favorites include seemingly too-slick MMA promoter Gil Guillory, who employs his wife and kids to hand out flyers to encourage folks to catch the hard edged brawls (fun for the whole family!) and Gladiators Academy teacher 'Crazy' Tim Credeur who trains exactly the way he wants his fighter to hit – hard.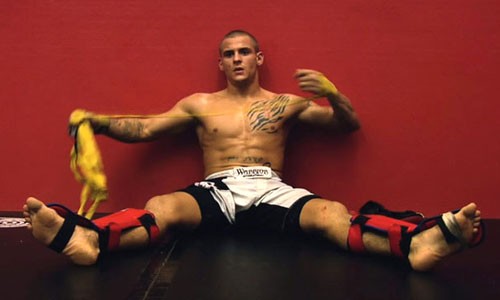 But even though there are many askew sides shown of the lead men (though Poirier comes off like he has a darker past then revealed here), it thankfully doesn't stop the audience from rooting for them and speaks right to the skill of filmmaking husband and wife team Petra Epperlein and Michael Tucker.  In what seems like a total opposite subject in comparison to their previous dramatic war docs, the duo brings that same gusto and in-your-face perspective to the world of MMA and the result is a revealing look at what it takes to be good and the toll on all involved.
I'm on board with promoter Guillory about the fact that what MMA has become is much different from previous perceptions about the famed no-rules fighting style – it's a skill indeed.  But it's the impressive work in this doc that showcases heroes big and small.  In everyday life it may be about how you play the game, but in the world MMA winning at all costs is par for the course.
Now for a little more "Fightville" insight, here's documentary co-director...
MICHAEL TUCKER!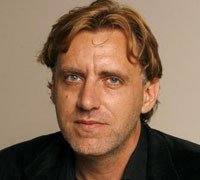 Looking at your past documentary work, "Fightville" seems to be a bit of a departure for you – what inspired you to make the film?
Michael Tucker: A lot of the soldiers we were in Iraq with were into Mixed Martial Arts and one of them came back from the war and started fighting as an amateur.  We featured him in our last film "How To Fold A Flag" and that introduced us to the world of Lafayette, Louisiana and "Fightville."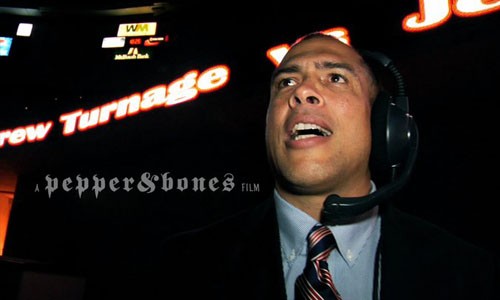 Promoter Gil Guillory seems like part family man, part snake oil salesman – what was your impression of him and did it change over the course of shooting?
MT: I think the amazing thing about Gil (laughs), and I've told him this, if it doesn't work out for him in Mixed Martial Marts he can always become a film publicist.  He's got a little bit of Harvey Weinstein in him – and P.T. Barnum!  This very American sort of 'let's put on a show.'  It's impossible not to like and respect the guy because he actually goes out there and does the work.  Which in our business, where you see a lot of finger pointing about why things don't work, a lot of times it's just because people didn't do the hard work.   
There are a few shots of blood in the ring, but I was curious how much did you actually see during the filming?
MT: I think the bloodiest fight we saw was actually in the film, which is where one of these huge heavyweights got his nose busted open and there was blood everywhere.  From a filmmaking perspective all those things are visceral and graphic and you want to capture them.  A lot of times the fights - and it's something that you actually see with the fans of the sport as you became more acclimated to their world – some of the fights were so technical that unless you know what you're watching it's almost boring.  So more of what you're seeing is hoping for that stand up fight because most fights these days the sport is so technical and so martial arts driven – this is not just brawling.  It's fighters going through transition after transition of these hold and moves and it's extremely technical.  So filming Dustin more than anything, I would pray for a knockout, you now?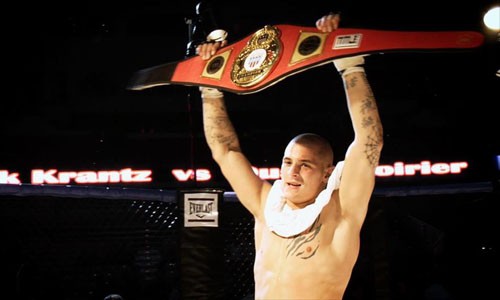 While fighter Dustin Poirier seems to have the eye of the tiger, there's definitely some dark moments in his past that appear to give him an edge as an MMA fighter – did he reveal any more of his past that didn't make it into the film?
MT: No – I think what's fascinating about him was that he was a kid who never backed down from a fight, but for real.  He just had it in him and it wasn't malicious either, he just kind of enjoyed it.  He enjoyed testing himself and he enjoyed competing and that was his outlet.  Clearly if he had not found Mixed Martial Arts his life would be very different.  He's essentially like a monk now, he has devoted his whole life to this and he's the cleanest living person I know.  This is a guy who single-handedly got me to quit smoking cigarettes – I haven't smoked since July.  I used to smoke two packs a day and I quit just because it was unbearable to be around him. (Laughs)    
Albert Stainback seemed to want to be a notable fighter, but didn't have the hard focus that Dustin did – is it really a necessity to be that so committed to be noticed in MMA?
MT: It's not even so much the getting noticed part.  I think it's more there are so many young guys that want to fight, that to compete at the level that Dustin is competing at you just really have to be the best.  You have to have such a wide array of ability to really be a true Mixed Martial Artist, wrestler, to be great at Jiu-Jitsu, to be a great boxer, to be great at Muay-Thai – you really have to put in the hours our you'll get destroyed out there.  That was the number one thing that fascinated me about the sport.  I would see this ferocious looking guy marching to the cage with a tattoo on his forehead and to see him destroyed in ten seconds by some kid that for me was the real revelation - that it's really about martial arts.
By the end we're both rooting for Dustin, but also feeling for his past and how regimented his life has become – how did you see him and what did you ultimately want to convey to the audience about him?
MT: I think for me, and I think it's been the number one take away we hear about the film, was what does it take to be the best at something?  For all of us we want to be better, we want to be the best people we can be and often we lose sight that it requires sacrifice and hard work.  For me it's incredibly moving to know him personally.  I was just with him in Louisiana to see how hard he's training, what he's willing to give up and to be able to look at my own life and go what am I willing to give up to be where I want to be.  It's easy to be distracted in this modern world and he is a wonderful vehicle and you root for him.  And he's earned it - it's not something that was just given to him.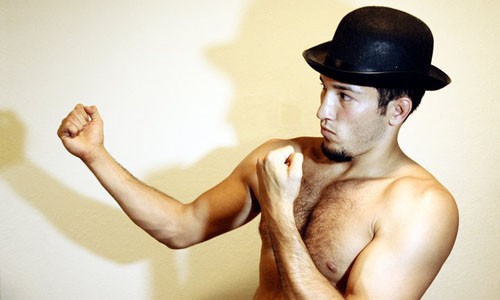 Can you tell us what has happened career wise for both Dustin and Albert since the film?
MT: Dustin was picked up shortly after we finished filming.  He was picked up by the WEC, which was then acquired by Zuffa, which is the parent company of the UFC.  He had one fight there and he's had four fights in the UFC and he's undefeated.  And he's fighting May 15th, fighting The Korean Zombie, he's the main event and if he wins that fight he will likely face Jose Aldo who is now currently the Featherweight Champion of the world.  It's unbelievable and we debated with this film and one reason why we've taken so long to release it was there was just so much happening in his life.  We couldn't even get him pinned down for a second to do press – he's just been on this incredible journey.  And Albert moved back to Kentucky where he's from and he's trying to get back to training and fighting, but I just don't think that's his path.  Someone who wants to do this they have to be willing to give up everything and it's not for everyone.  Maybe he'll find the inspiration and he'll do it.  I think he has some of the natural ability to do it, but whether he's willing to devote himself or not only he can say.
And what's next?
MT: A vacation! (Laughs)  My partner (Petra Epperlein) and I are married and we've always worked in a small team.  We try to keep things small like our peers back in the 60's and 70's who kind of kept things small – documentaries have become very bloated lately.  But we try to make films as a family, although it is a challenge to work together (laughs) and your life kind of consumes you.  We made four films about the war and we were literally in the war for eight years, so when I say vacation I'm not joking.
"FIGHTVILLE" OPENS IN SELECT THEATERS APRIL 20 FROM MPI MEDIA GROUP.