Review/Interview: Director David Brooks Makes Banking Deadly With New Thriller 'ATM'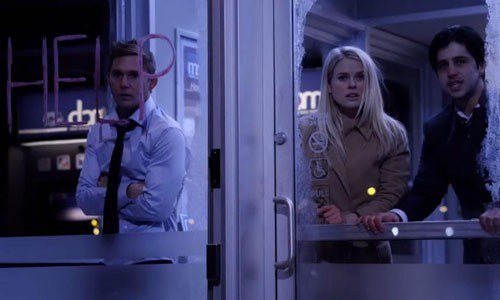 Wrong place, wrong time.  That's the scenario facing three unsuspecting people who become victim to a faceless killer in the new thriller "ATM," in theaters April 6 from IFC Midnight.  The film is the brainchild of "Buried" writer Chris Sparling, stars Brian Geraghty, Alice Eve and Josh Peck and is the first feature from Director David Brooks.  We're checking out this creepy trapped-inside-a-box ride with a review of the film, plus some Starpulse one-on-one candid Q&A with Director Brooks about why he chose "ATM" as his first feature, his interesting casting choices and the possibility of more ATM killer adventures.  (Demonic minds want to know!)  So sit back and deposit your fear here!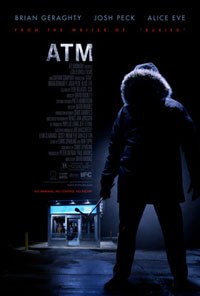 Title: "ATM"
   Stars: 3 1/2
   Genre: Thriller/Horror
   Cast: Brian Geraghty, Alice Eve, Josh Peck
   Director: David Brooks
   Rating: R
   Running Time: 90 Minutes
   Release Company: IFC Midnight
   Website: www.ifcfilms.com/films/atm
Single location films are a tricky business.  Such confined settings can either be a help (Buried was a taunt thriller!) or a hindrance (Phone Booth got tired – fast!), but always require the right amount of elements to keep audience attention.  ATM has some of those elements, but also gets a major boost from its unrevealed villain that adds an extra layer of creepy.
The set up is basic – David likes co-worker Emily and offers her a ride home, but they have to drop of intrusive bud Corey first.  Corey's hungry but with no money asks to stop by a local ATM bank machine.  Big mistake.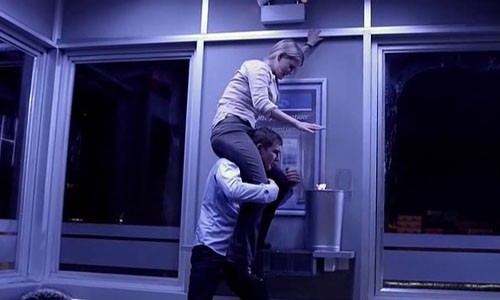 How ever improbable (there are a few questionable choices made by the three yuppie victims!) and at times seemingly insane some of the scenarios within are, I still bought and jumped head first into "ATM."  There's an ominous sense of dread oozing out the unnamed baddie who seems solely out to terrorize that had me hooked.  Plus there are some clever answers to audience questions within the story by Chris Sparling that provide extra legitimacy over moments without any.  (He also had this same use of raw elements in "Buried" to the same memorable results!)  Plus the use of a single space was quite creative as well, with Director David Brooks at times making you forget it's all taking place in one spot.  I have to admit I also liked the chummy yet annoying pal played by Josh Peck. Part Jack Black, part Bill Paxton in "Aliens," Peck plays a guy you love to hate and adds spice to the straightforward roles of Brian Geraghty and Alice Eve.
"ATM" is not the perfect film (there are some plausibility issues!), but overall it gets the job done.  Small spaces, ominous killers and the feeling that death is right around the corner – online banking never looked so good.         
And now for a little more insidious insight, here's...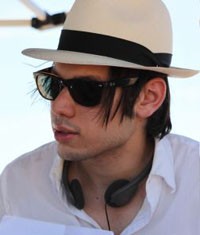 Writer Chris Sparling seems to have resurrected creating suspense in a single location – what drew you to his script for "ATM?"
David Brooks: For me anytime you read something that takes you somewhere unexpected is incredibly exciting.  The first time I read the script I didn't see the beats coming and that was great.  That combined with the opportunity to work with these three characters and three young actors in a very intimate setting was a big draw.
With "ATM" being your first feature what was the biggest hurtle making the film?
DB: It's always been my approach, but you try and get as many of the hurtles out of the way in prep as you can – particularly when you're shooting a film in twenty days like we were.  You don't have time to re-think and try new things, so you really have to have a plan.  It starts with spending time with Chris and working on little things in the script.  Then in preparing and building the set, which really became almost a giant prop.  It was integral that we built it in a way where the walls flew and the lighting was built in and we could get the camera angles that we needed with minimal effort and efficiency.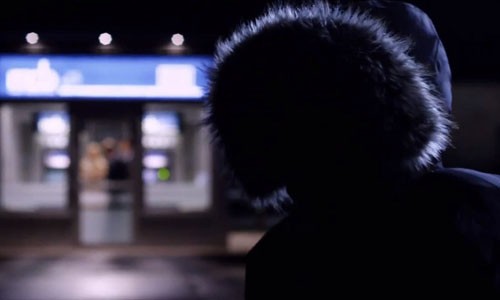 The mysterious character that torments the three leads has a creepy anonymousness – was this always by design and was there ever any resistance to it?
DB: It was definitely by design, from the beginning in the script and that was always the approach we wanted to take.  Hopefully doing something a little different, taking people somewhere unexpected and avoiding the tendencies in these kinds of films to wrap things up neatly.  As far as resistance, I think people really got that this was the movie we were going to make and it was the point in some ways.  We got very lucky that people were really on board with what we were going for.   
Did you have a single person play that character?
DB: Yes – absolutely!  Mike was just great and he really made it a character.  It's really deceptive how challenging that is, to be this nameless faceless villain and to have it feel real and scary but not mannered.  He really brought an actor's perspective and made a real character out of it.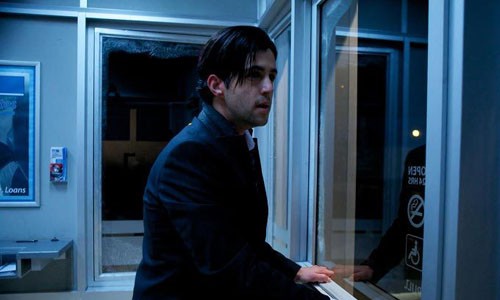 Brian Geraghty and Alice Eve are both a no brainer in terms of great casting, but the use of Josh Peck is fantastic and out of the norm – what inspired you to cast him here?
DB: Thanks!  That was really interesting because the script had gotten to Josh and we assumed he might be interested in playing the lead role and he came back and said he wanted to meet about Corey.  I just loved so much what he did in The Wackness and I thought here's a guy who has got such incredible range.  As soon as we met it was just apparent that he really got the character and being a funny guy got the character balance between the humor and in a way being an unlikable character that you can't help care about.  That's something very unique that Josh brought to it. 
Will we ever see more adventures from the haunting faceless killer of "ATM?"
DB: We'd have to ask Chris about that one!  I'm sure Chris is sitting in a dark cellar somewhere coming up with a new twisted idea.  But yeah, who knows, it could be interesting to revisit – it certainly an interesting character.  
What's next for you?
DB: I'm sort of actively aggressively trying to find the next thing.  There are a couple of things I'm developing and I'm also reading a lot of scripts.  I'm eager to get back behind the camera, but it's got to be the right project, so we'll see.
"ATM" HITS SELECT THEATERS APRIL 6 FROM IFC MIDNIGHT.