Reviewed! The Moody Blues - 'Threshold Of A Dream: Live At The Isle of Wight Festival' DVD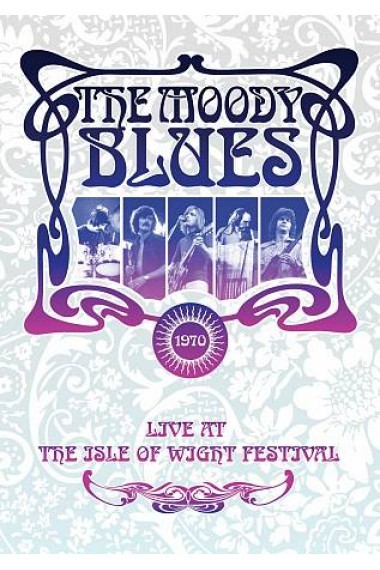 The Moody Blues: "Threshold of a Dream: Live at the Isle of Wight Festival" - Eagle Rock Ent.
If you see only one Moody Blues DVD this year (and c'mon, why wouldn't you?), make it their recently released "Threshold of a Dream: Live at the Isle of Wight Festival," a picture perfect account of their performance at, yes, you guessed it, the famed 1970 Isle of Wight Festival. Even though the festival played host to acts that operated on a much different wavelength – the Doors, the Who, Jimi Hendrix, Jethro Tull and Miles Davis – the Moody Blues - Justin Hayward, John Lodge, Ray Thomas, Graeme Edge and Mike Pinder - did their part in bringing the packed house of 600,000+ strong to the ground.
Sure, the bands most triumphant outings, namely the brilliant 'Nights in White Satin' and the lesser known, but just as radiant 'Legend of a Mind' were responsible for whipping the crowd into their most frenzied of moments, the rest of the bands set on that fateful night is not to be missed, to say the least. The band plows through their catalog at an excellent clip – firing off song after song aching to be heard, such as 'Never Comes the Day,' 'Tortoise and the Hare,' 'The Sunset,' 'Melancholy Man,' and 'Tuesday Afternoon', before effectively, and incredibly efficiently mind you, wrapping the night with the track 'Ride My See-Saw,' a pure and literal crowd favorite.
The bands proverbial calling card, the Mellotron, which could represent an entire orchestra with your fingertips, makes an appearance during the night, which is something the band has been known for throughout the years – surely a sight to see. If you have yet to, you definitely should.
They say to never forget where you came from, and the Moody Blues are where most contemporary prog bands got their start. If you're one of the many who have overlooked this band throughout the years, now is your time to see what you've been missing, and "Threshold of a Dream: Live at the Isle of Wight Festival" is the definitive place to start the learning process.
Grade: A