Review: Wiz Khalifa Brings More Of The Same On 'Blacc Hollywood'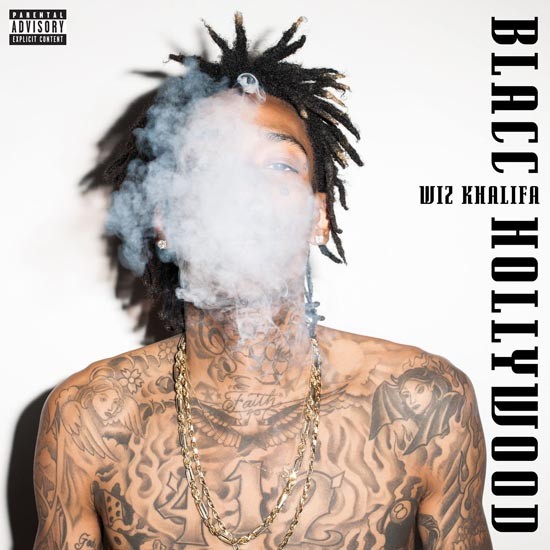 If nothing else comes across on a Wiz Khalifa album, the MC's love of weed does. It seems as if no Wiz song is a go without a reference to smoking.  While the honesty is appreciated, it is often overplayed, growing tiresome album in and album out.  On third album of note, Blacc Hollywood, weed definitely remains part of Wiz. His shallowness as an MC as well, dominates his latest album. Ultimately, Wiz Khalifa is who he is, and nothing more. 
"Hope" opens Blacc Hollywood, featuring up and coming artist Ty Dolla $ign.  Chevy Woods provides a lengthy intro before Wiz ever spits one bar.  Ultimately on this clubby opener, Wiz spits about girls who value money over authentic love. It's not a bad opener, though Ty Dolla $ign's role is minimal – he's restricted to the so-so bridge. Compared to what is to come, "Hope" features more a bit more substance than expected.
Blacc Hollywood's high-flying single "We Dem Boyz" proceeds, in all its repetitive glory.  Wiz isn't exactly 'poetic' lyrically, focusing on sex, money, and of course kush.  Those following Wiz since Rolling Papers have a strong argument he's yet to achieve such a high point again.  Honestly, do lines like "You got an a** so fat let's make a baby" truly resonate. 
"Promises" finds Wiz embracing his singing voice – even to a greater degree than just pop-rapping.  A sex song by all means, the lush production proves to be a sound backdrop for the rapper.  Besides singing, Wiz manages to rap a verse.  Ultimately, it does prove to be one of the better moments of Blacc Hollywood. 
After the more sensitive "Promises," Wiz gets back to what he does best – rap about weed.  Not just any weed – "KK."  On "KK," Wiz is as foolish as ever, and enlists the help of friends – Project Pat and Juicy J – who match such foolishness.  If weed is your thing and you enjoy Wiz's weed endeavors on the track, then "KK" will appeal.  If not, it is merely another Wiz Khalifa song references his affection for weed.
"House in the Hills" brings Curren$y aboard.  A come-up song, Wiz sings on the hook, "We started small to them houses in the hills." It works, but don't call it the 'second coming.'  Arguably, the more salacious, dirty "A** Drop" is more captivating.  Sure, it's another booty anthem – there's already an overabundance – but the production is definitely noteworthy if nothing else.  
What better to follow "A** Drop" then, "Raw," a malicious sounding joint – take the 'joint' part literally.  As always, Wiz partakes of weed (he references O.G. kush) and lives a liberal lifestyle – clothes, sex, etc.  For what it is, "Raw" is solid.  If you're searching for more depth, well, why are you listening to Wiz Khalifa in the first place?