Review: With Five-Star 'Antiviral' Brandon Cronenberg Shows The Apple Doesn't Fall Far From The Tree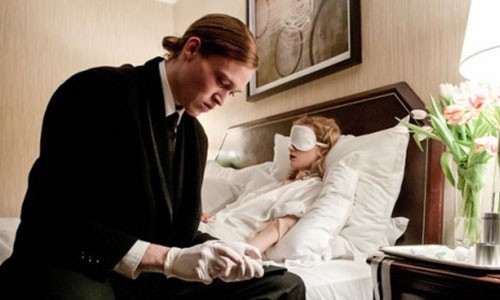 When he first began, filmmaker David Cronenberg was the master of strange stories and askew tales.  But in recent years it feels like the elder Cronenberg has gone a tad mainstream and doesn't possess the oddjob mojo he once used to reign over all things weird as supreme ruler.  Enter Brandon Cronenberg.  The son of David with an equal affinity for fantastic flesh fables, Brandon's newest brilliant outing "Antiviral" begins the cycle of early Cronenberg anew – and thankfully the apple does not fall from the tree.
Syd March is an employee at a clinic that services celebrity obsessed fans.  It's a place that specializes in selling injections of live viruses harvested from sick and dying celebrities and gives it to the fans that crave it.  Want a cold or flu?  Perhaps a little cold sore or herpes action?  All are available…for a price.  Problem is Syd is also conducting his own business on the side and after injecting himself with the latest disease from superstar Hannah Geist finds himself in way over his head with collectors and fans alike.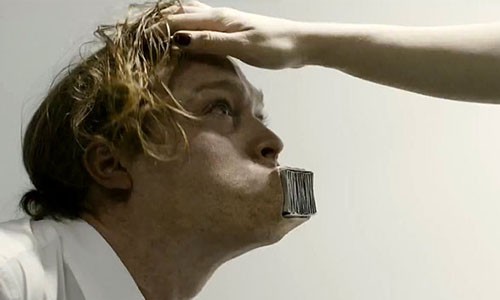 There's a lot of oddity within Antiviral but it's 100% pure Cronenberg family flesh fun.  Take the joy of "eXistenZ," the fascination with human parts as mechanics via "Videodrome", the creepy Brundlefly obsession factor from "The Fly" and inject it with new life from a Cronenberg untouched by Hollywood and you've got a film that is pure five-star strange.  Plus the film poignantly points out our need for celebrity culture (are we really that far from the films' supposed inane premise?!) all the while providing a healthy dose wild and wonderful.  Not to mention that Cronenberg's two leads could not be more fascinating to watch on completely different levels – Caleb Landry Jones as weasel like conman Syd who slowly deteriorates as the film goes on and Sarah Gadon who radiates in every photograph and ad as the famed Hannah Geist.  (Plus there's even a little Malcolm McDowell action in here!)  And the film looks sick and slick thanks to fellow Canuck DOP Karim Hussain, who shot the legendary "Hobo With A Shotgun" and directed his own memorable segment "Vision Stains" for the film "The Theatre Bizarre" – it's a match made in Canadian offbeat heaven.
Look, I know Brandon has been trying to distance himself from his father's previous work, but I say embrace it.  I never felt like the younger Cronenberg was copying his prolific papa, just carrying on a tradition of cinema beyond the norm that makes us think.  In the absence of the man who made heads explode and stomachs turn into VCR's, it's good to see that there's a passionate Cronenberg alive, well and still working weird.          
"ANTIVIRAL" HITS THEATRES APRIL 19 FROM IFC MIDNIGHT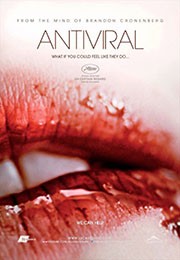 Title: "Antiviral"
   Stars: 5
   Genre: Drama/Thriller
   Cast: Caleb Landry Jones, Sarah Gadon, Lisa Barry
   Director: Brandon Cronenberg
   Rating: Not Rated
   Running Time: 108 Minutes
   Release Company: IFC Midnight
   Website: www.ifcfilms.com