Review: Van Damme And Other Funny Folks Elevate Comedy In 'Welcome To The Jungle'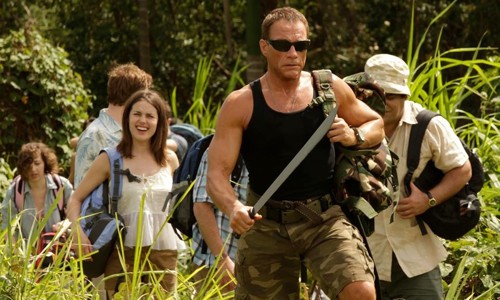 I'll admit I'm a big Jean-Claude Van Damme fan from way back when.  As an impressionable kid hung up on 80's tough guys, Van Damme's early work like "Bloodsport," "Double Impact" and "Universal Soldier" were like pure crack to my action addiction.  Though more recently I found myself even more enthralled with the dramatic self-reflection outing "JCVD," which showed a more emotionally raw Van Damme than ever before.  This time around the muscles from Brussels is trying his hand in a comedic combat arena with the new film "Welcome to the Jungle" and thanks to a very memorable cast of characters he comes out relatively unscathed.
Chris is an imaginative ad man with big ideas but little power.  His boss Phil is not only slimy and underhanded, but is tight with the big man of the company.  So when Phil steals an idea from Chris and poses it as his own, Chris begins to have feelings of doubt and frustration about his job and position in life.  Enter Storm Rothchild.  As an ex-miltary trainer, Storm gets hired by the big boss to take the entire office out on a team-building wilderness seminar.  Trapped on an island with little resources and forced to fend for themselves, the good, the bad and the funny all emerge.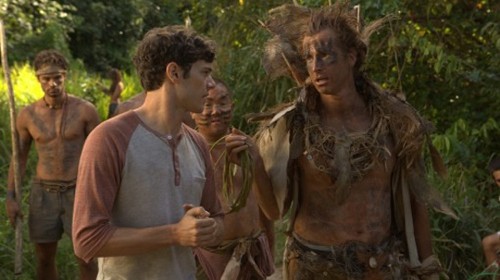 A mix of "Office Space" and "Lord of the Flies," "Welcome to the Jungle" is mired in some very stereotypical storytelling.  Meaning all the little guy rising up, bad guy revealing true color and tough guy showing sensitivity angles are fully on display and covered in comedy for your convenience.  What does save the film from its basic structure is the wonderful and colorful cast of characters, both big and small, all of which play their various roles with memorable zest and zeal.  Especially hilarious are Rob Huebel as the power hungry Phil, Aaron Takahashi as his man servant Troy, Kristen Schaal as the shrill Brenda, Eric Edelstein as slacker Jared and even Adam Brody and Megan Boone do decent as the resident good looking lead love birds.  But back to the Van Damme – how does he fare?  Taking comedic hits and funny barbs with great ease at his now iconic image, Van Damme seems rather comfortable in a laugh life setting.
Again, there's not much new ground story wise here, but great comedy can come from the characters as well.  "Welcome to the Jungle" wisely fills its safe story landscape with funny folks that elevate the material and on that level here's more than enough killer comedy to be had.  A stiff kick or punch can certainly cause Van Damage, but a long and hearty laugh lingers much longer.         
"WELCOME TO THE JUNGLE" HITS THEATERS FEB. 7 FROM CINEDIGM.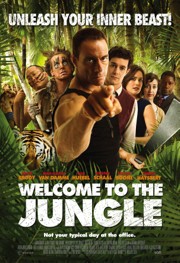 Title: "Welcome to the Jungle"
   Stars: 3 1/2
   Genre: Comedy
   Cast: Adam Brody, Rob Huebel, Jean-Claude Van Damme
   Director: Mark Sheppard
   Running Time: 95 Minutes
   Release Company: Cinedigm
   Website: https://www.facebook.com/Welcome2TheJungleMovie