Review: USA's 'Common Law' Far Too Common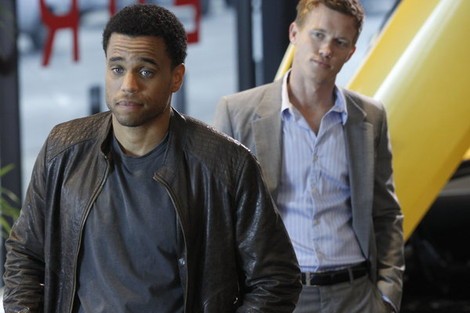 The bromance is one of entertainment's obsessions for two reasons: it makes for dynamic and interesting chemistry; and television shows don't have to find creative ways to avoid the fatal loss of compelling momentum when two main characters finally start a relationship that's often believed to ruin series like Fox's "Bones" or ABC's "Castle" (an affliction dubbed the "Moonlightng" curse).  Hollywood has taken notice that people—particularly the young, female variety—swoon over the epic bromances such as the doomed friendship between Charles Xavier (James McAvoy) and Erik Lehnsherr (Michael Fassbender) in "X-Men: First Class" and the legendary love between Steve McGarrett and Danny Williams in the reboot of "Hawaii Five-0," and they're trying to mass produce it.  Case in point: USA's newest creation, "Common Law," starring Michael Ealy ("Think Like A Man") and Warren Kole ("The Avengers") as long-time partners hitting a nasty case of the seven-year itch.  While the "Characters Wanted" network has created slate of successful shows that offer an innovative and brilliant spin on espionage and crime dramas (see "Burn Notice," starring Jeffrey Donovan and "White Collar," fronted by Matt Bomer), "Common Law" feels like an outdated retread of every buddy-cop movie and humdrum procedural ever made.
Ealy plays Travis, a charming womanizer who has bedded all of the hot female cops, coroners and lab techs in his precinct.  Kole is Wes, the Danno to Travis's McGarrett, an uptight lawyer-turned-cop whose back story is still murky even after the extended premiere.  They are, of course, the LAPD's best detectives, but after years of collaring killers, they're one sarcastic comment away from murdering each other.  The only logical solution is not to find new partners, but for Travis and Wes to enter couples' counseling.  The crux of Travis and Wes' tension revolves around one moment that is never shown, a mistake that leaves the premiere episode glaringly incomplete.
While the introduction to the leading men is clever and adorable, the shoddy writing is the root of the problem, making "Common Law" feel more like a serialized "Lethal Weapon" than a modern, sensitive-man-with-guns thrill-ride it aims to be.  Wes drives a pricey Range Rover instead of a department vehicle.  Travis shoots a jaunty inflatable mascot because he "hates" it.  Wes destroys a gas station to take down would-be thieves.  It's eye-rollingly ironic that the detectives break more laws than they enforce.
Despite it all, "Common Law" can be rehabilitated.  The cast, which includes "Lost's" Sonya Walger as Dr. Ryan, their shrewd counselor, breathes life into material that's well past its prime, which is somewhere around the mid '90s.  Kole and Ealy, with those brilliant blue eyes and easy smile, are not remotely hard to look at and have palpable, bromantic chemistry that's genuinely endearing.  Law's best scenes are with Dr. Ryan and the other couples in therapy that illustrate how much Travis and Wes simultaneously trust and irritate each other.  If it can rise above the rogue cop trappings of yesteryear and focus on the relationship between two men who are not only friends, but brothers in blue, then it won't be so common after all. 
"Common Law" premieres May 11 on USA Network at 10 p.m. EST.  Check out the trailer below: