Review: 'Tyler Perry's I Can Do Bad All By Myself'

The seventh film out of the
Tyler Perry
machine is actually a cherry-picked version of Perry's second play by the same name, which coincidentally was the first to debut his signature Madea role. Though you would never know this from watching the film, it is no matter, and no wonder that the Madea franchise has been one of the most profitable in recent Hollywood history.
Like all of the films in Perry's cannon, "
I Can Do Bad All By Myself
" does good to depict various lines in African-American life, and he definitely goes for it regardless of how the end result may materialize. The first twenty minutes of the film for instance works to feed the stereotype that African-Americans are loud; all of the characters stomp around screaming at each other at the top of their lungs, the women mainly; though much of the dialogue during this stretch is funny (and the body language of super knockout
Taraji P. Henson
downright hilarious), the audience in my screening was surely divided down racial lines: the blacks rolling over their chairs with laughter as the whites let out perhaps an occasional chuckle at best. Inside jokes? Sure, Tyler Perry has an intended audience that he wants to reach with his messages, but it's no secret that he is by now a crossover success.
"I Can Do Bad All By Myself" is a story about family-displaced family-and the responsibility that comes along with looking after that family even if they are not necessarily close. We meet old woman Madea late night in her home as she's awakened by the sounds of people breaking into her house. Frightened? Heck no, and if you didn't know this, you don't know Madea; she's primed and ready to confront her burglars, only to find that they are three little children: a defiant sixteen year old Jennifer (Hope Olaide Wilson) and her two younger brothers, one of which suffers from diabetes and the other who is slow and mute. Madea reluctantly feeds the children and sets out to find her relatives the next day. April (Henson) is a singer who works late nights at a local club, drinks herself well into the next morning and spends the rest of her day asleep next to a man (Brian White) who pays the rent, is married to some other woman and isn't so nice. Of course she turns out to be the three children's nearest relative that can be found; of course her man hates children and she's not too fond of them either. What is set to serve as comic fodder is essentially one of the more serious aspects of Perry's message: that too many families are broken when people who have the power to make a difference simply won't. The local church meanwhile has found a solution to April's ill-kempt home by offering up a displaced Colombian (
Adam Rodriguez
) to do home improvements and work in exchange for room and board. Yes this is going to be a slight issue with April's boyfriend, because movies need drama.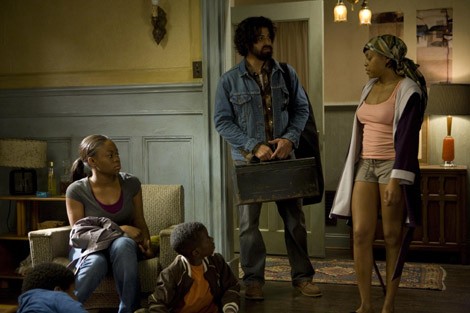 Tyler Perry's I Can Do Bad All By Myself © Lions Gate Entertainment
For a Madea film, "I Can Do Bad All By Myself" is considerably light on Madea appearances. I was leaning towards this being perhaps one of her least funny outings, until midway through the film she turns up with Jennifer and delivers prayer advice and a slightly incorrect Bible story that is downright gut-busting. As for the formula, this film certainly doesn't offer up any twists or surprises, and you can see the story's climax and resolution coming at the quarter-mark. But acting is satisfactory, even if the whole thing at times feels like a church production more so than a Hollywood one. Of course, if this bothers you, you really don't know Tyler Perry.
Grade B-
Story by
Simbarashe
Starpulse contributing writer