Review: Two Jews On Film' Find 'The Debt' Intense And Thrilling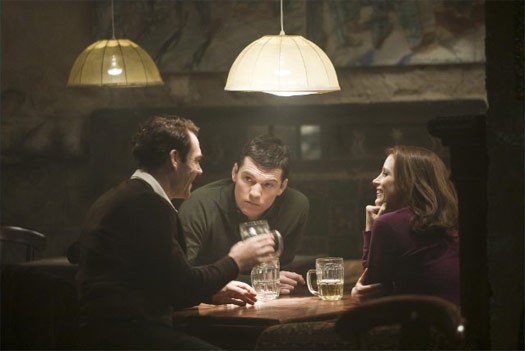 Two Jews on Film: By Joan Alperin-Schwartz: Even the best secret agents carry a debt from a past mission. Rachael Singer must now face up to hers...
'The Debt' directed by John Madden (Shakespeare in Love) is the story of what happens when the lie you've been living for decades finally catches up to you.  What do you do?
The year is 1997. Rachel (Helen Mirren) and her husband Stephan (Tom Wilkinson) retired Mossad secret agents learn that their former colleague, David (Ciaran Hinds) has killed himself...
Rachel sets out to find discover why David has taken his own life.  We travel with her as she takes a journey into the past...Her past.  Rachel has buried her true emotions for years, never confronting the depths of her real feelings about people and events that have transpired.  And now...she's finally ready.   
In 1965 Rachel (now played by Jessica Chastain) is in East Berlin with her fellow Mossad agents...David (Sam Worthington) and Stephan (Marton Csokas).  Their mission...to capture the Nazi war criminal Dr. Dieter Vogel (brilliantly played by Jesper Christensen) and bring him back to Israeli to stand trial. Vogel is known as the feared Surgeon of Birkenau.  
Rachel sets herself up as bait in order to capture Vogel. The good doctor is now practicing medicine under an assumed name. Rachel becomes his patient pretending that she is having trouble getting pregnant. The look on Rachel's face every time this twisted evil man touches her, will have you squirming in your seat. I know I was.
It's during this mission that an unexpected love triangle grows between Rachel, David and Stephan. An affair that has consequences for years and years.
'The Debt' is an old fashioned thriller. The suspense builds in and across two different time periods with startling action and surprising revelations.
I love a film that makes me think...makes me question...And this one does just that.  The scenes between Dr. Vogel and his Jewish captors are some of the most intense I've seen on screen.  It makes you wonder what you would do in this kind of a situation...How do you stop yourself from killing a monster?  Why even bother?
The acting is brilliant...The story is compelling...and finally, 'Two Jews On Film' are in agreement.  Check out our video to see how many bagels we gave 'The Debt'.
The film opens in theaters, Friday September 2, 2011.  Don't miss it!