Review: 'Twilight Saga: Breaking Dawn - Part 2' Ends On A High Note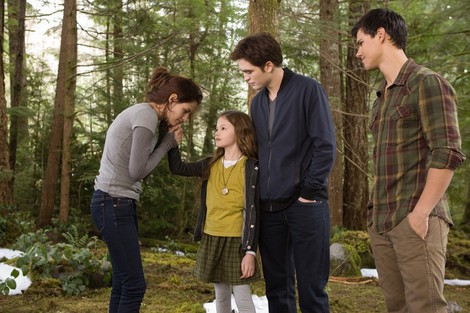 The vamps are back and even though Kristen Stewart and Robert Pattinson aren't together, Bella and Edward are. And now they have a very magical baby, half human and half vampire.
So here's the good news...Bella loves being a vampire...loves the power and the speed that it brings her. She loves her husband and her baby, Renesmee (Mackenzie Foy).
In fact, the Cullen crew including Peter Facinelli, Elizabeth Reaser, Ashley Greene and Kellan Lutz are all living in the country in what can only be described as bliss. Even wolf-man Taylor Lautner has come aboard. Seems he's imprinted on the baby and now he has no choice but to protect her with his life.

Of course that doesn't last long. Irina (Maggie Grace) comes for a visit and before she can even say hi, she spots Renesmee in the woods flying above the trees and thinks she's an IMMORTAL child; a child who gets bit and becomes a vampire. This is a big no-no.

Irina instantly reports this information to the VOLTURI clan and now Bella and the Cullen's have to gather allies to face them or be destroyed.

'Breaking Dawn Part 2' is a fantastic end to the Twilight Saga. Bill Condon did an excellent job as director. It's exciting, full of surprises and even funny. In my opinion it's my favorite of all the films.
The cast, especially Michael Sheen as the head of Volturi clan, all bring a little something extra to their characters; making them memorable and super entertaining. 

And for that reason I gave Breaking Dawn-Part 2, which opens in theatres, November 16th, 2012...4 1/2 bagels out of 5. And miracle of miracles, John didn't hate it.

Check out our video for more of our banter and John's bagel score.
Please SUBSCRIBE to us on Youtube. Only need 75 more subs to reach 1,000 and LIKE us on our Two Jews On Film Facebook page. Love to hear your thoughts about this film.