Review: 'Trouble With The Curve' Predictable But Still Worth A Visit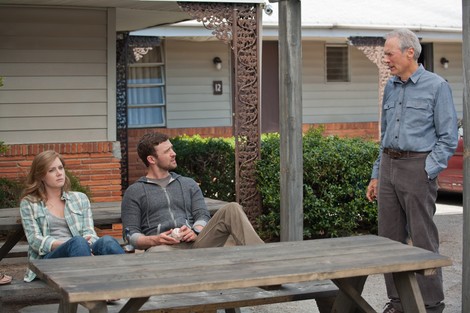 'Trouble with the Curve' is -- a) corny - b) nothing you haven't seen before and - c) totally entertaining.
Clint Eastwood is Gus, an aging baseball scout for the Atlanta Braves. Gus has more than a few problems. He's losing his eyesight, has trouble peeing, his contract expires with the team in three months and might not be renewed. 

Oh, did I mention that his relationship with his high powered lawyer daughter, Mickey (Amy Adams) is far from great. In fact it sucks.

Amy and Gus are total polar opposites. Gus hates technology, thinks computers are a ridiculous way of tracking a players stats and won't even consider using a cell phone.

Amy, on the other hand, practically sleeps with her laptop. They do, however, have one thing in common - their love for baseball.
Circumstances arrive that force Mickey to accompany Gus on a scouting trip through North Carolina, they both get one last chance to heal old wounds and maybe...just maybe, have a real father/daughter relationship.
Yes this film is old fashion, but it works. There's even a little romance thrown in and a moonlight swim thanks to Justin Timberlake. He plays a former pitcher who's now a Red Sox scout. Mr. T. does an adequate job at being boyish and charming. His chemistry with Amy isn't great, but it won't put you to sleep either.
Rounding out the cast is John Goodman, Gus's long time BFF/co-worker and Matthew Lillard, an obnoxious jerk who wants to be the next...Gus.
'Trouble with the Curve' opens in theatres Friday, September 21st. 
The film was directed by Clint's long time producing partner Robert Lorenz and for a first time director, he does a good job with his cast. Randy Brown, also a first timer, wrote the script.
I gave 'Trouble with the Curve' 3 bagels out of 5. Check out our video to see John's rating and for more of our banter.
Two Jews on Film – Check out our video review!
Please SUBSCRIBE to our channel on YouTube and LIKE us on our Two Jews on Film Facebook page. Thanks everyone and let us know what you think.