Review: Tom Cruise Shines In 'Rock Of Ages' - The Film? Not So Much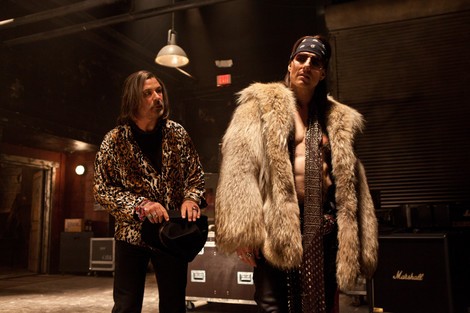 Sometimes, a good actor can make a bad movie worth watching. Sometimes a bad actor can make a bad film really unwatchable.
That is definitely the case with 'Rock of Ages' directed by Adam Shankman (Hairspray).  
Julianne Hough is a great dancer, but when it comes to acting and singing, she's not very good. The chick is bland and just plain boring. Unfortunately, so is her co-star Diego Boneta. Granted he has a good voice, but he doesn't come across much better in the charisma department.
Of course, they're not the only problem with this film.  'Rock of Ages' written by Justin Therous, Chris D'Arienzo and Allan Loeb is based on D'Arienzo's Broadway musical of the same name.
This type of musical falls into the category of a 'Juke Box Musical.' It's all about the music. The dialogue, plot and structure all fall to the wayside.
Here are the Cliffs notes:
Two Jews on Film - By Joan Alperin Schwartz
Boy, Drew (Diego) meets girl, Sherrie (Julianne). They've come to the bright lights of the Sunset Strip to make it big in the music biz... And before you can say 'We Built This City on Rock And Roll'… the two of them, fall in love.
You know they are in love because every 5 seconds they sing about it, while Julianne's hair blows in the wind.
Now all this is taking place at The Bourbon Room, owned by Alec Baldwin and Russell Brand. It's here that musicians go to get discovered and hot chicks go... to party and nail, whoever.
Catherine Zeta-Jones and her hubby the Mayor, Bryan Cranston, want to shut the club down because... they sing about it.
Moving along... After looking into each other's eyes and breaking into song for the first 80 minutes, Drew mistakenly thinks Sherri and burnt out rock and roll super star Stacee Jaxx (Tom Cruise) have had sex.
By the way Mr. Cruise kills in the part.  Plus he has a four range octave and sings his ass off... One of his best performances in a long time.
So our couple breaks up and Sherri gets work as a stripper in a club, where for some reason Mary J. Blige hangs out.
Drew takes the advice of his sleazy manager, Paul Giamatti, and gives up Rock and roll to become a white rapper in a Boy Band.
What happens next? Well believe me, I doubt at this point, you'll even care.  All I wanted was everyone to stop singing.
My recommendation: if you're into music from the 80's, skip 'Rock of Ages' which opens Friday, June 15, 2012 and instead, download the songs from I tunes.
I gave the film 2 bagels out of 5 and that was only because of Tom, as well as, Malin Ackerman, who plays a Rolling Stone reporter.
Check out our video to hear John's thoughts and find out his bagel rating.