Review 'To Rome With Love': Woody Allen Does This Magnificent City Proud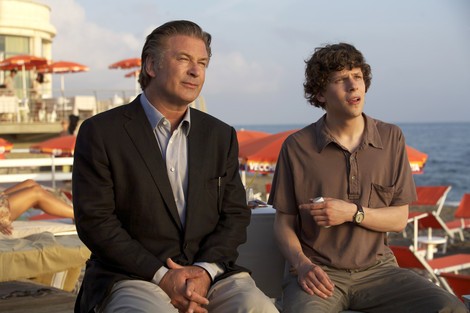 Last year, one of my top three favorite films was Woody Allen's Midnight in Paris, an exquisite homage to the magical city of lights. Now I'm happy to report that Woody has done it again with To Rome with Love!
He's written and directed a quirky, satirical, funny, and beautiful film about the people who visit, live, work, fall in love and get lost in this enchanting eternal city.
We meet famed architect John (Alex Baldwin), who lived in Rome in his youth and is now vacationing there. 
Walking the streets of Rome, John meets a young architect student named Jack (Jesse Eisenberg); a young man not unlike himself.  He watches Jack fall head over heels in love with Monica (Ellen Page); who is the dazzling, narcissistic actress friend of Jack's already girlfriend Sally (Greta Gerwig). Watching this love triangle develop, John relives one of his most romantically painful episodes of his own life.
Two Jews on Film - By Joan Alperin Schwartz
Then there's Hayley (Alison Pill), who introduces her Italian fiancée, Michelangelo (Flavio Parenti) and his family to her parents. Hayley's dad Jerry (Woody Allen) is a kvetching, retired Opera director and her mom Phyllis (Judy Davis), is a psychiatrist.
When Jerry Giancarlo, (Fabio Armiliato) an undertaker, sings arias in the shower, Jerry clutches at the opportunity to promote Giancarlo and rejuvenate his own career.
There's also a comical, biting, insightful story about the price of fame, when Leopoldo (Roberto Benigni) becomes famous for... absolutely nothing.
And lastly, we meet Antonio (Alessandro Tiberi) and his new wife Milly (Alessandra Mastronardi), who have come to Rome so he can take an upscale big city job with his wealthy uncle's law firm. 
Through a series of very funny events, Antonio winds up passing off high class hooker (Penelope Cruz) as his wife and Milly gets to be romanced by a legendary movie star, Luca Salta (Antonio Albanese)
All of these people, before the film ends, will have their lives changed forever and you will leave the theatre smiling.  I know I did and for that reason I gave To Rome with Love which opens in theatres Friday, June 22, 2012 - 4 1/2 bagels out of 5.
Check out our video to see John's rating and our funny banter.