Review: 'This Is 40' Is Judd Apatow At His Best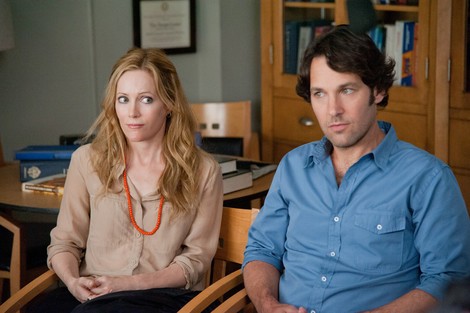 'This is 40' or as Debbie (Leslie Mann) likes to say...38. Yup, she lies about her age, even to her gynecologist.
Debbie and Pete (Paul Rudd) her husband are turning 40, but Deb just won't admit it (can't admit it).
Judd Apatow's new film 'This Is 40' is a follow-up to 'Knocked Up.'  If you've been wondering what happened to those two main characters in that film, here's your chance to find out.
Debbie and Pete are happily married with two girls, Sadie (Maude Apatow) and Iris (Charlotte Apatow). The family lives in a beautiful lavish house that they can barely afford.
Pete's indie label isn't doing very well and his next big launch of Graham Parker and the Rumor's comeback record doesn't look too promising.
Plus someone has stolen $13,000 from Leslie's Lula Lemon type store.  It's either her top salesperson, Desi (Megan Fox) or her pet employee, Jodi (Charlyne Yi). 
On top of all this, Pete's father, (the wonderful smarmy, narcissistic Albert Brooks) is constantly borrowing money from him; money Pete doesn't have but he just can't say 'no' to his daddy.
Oh did I mention that Debbie also has a father (John Litgow) but he couldn't care less about her? All his affections are for his younger picture perfect NEW family. 
'This Is 40' is an emotionally insightful, hysterically funny film. It touches on issues everyone can relate to, sex, family, marriage, parents, kids, growing old, and life in general. It does it with Apatow's brilliant spot on dialogue.
'This Is 40' opens in theatres on Friday, December 21 and it's a perfect film for the holidays.
Check out our video on our YouTube video below to find out our bagel score, see Mango do absolutely nothing and of course, for more of our banter.
Please SUBSCRIBE to our channel on YouTube and LIKE us on our Two Jews on Film Facebook page.
Thanks everyone and let us know what you think about this film.