Review: 'This Is 40' Is Far Too Long With Too Few Laughs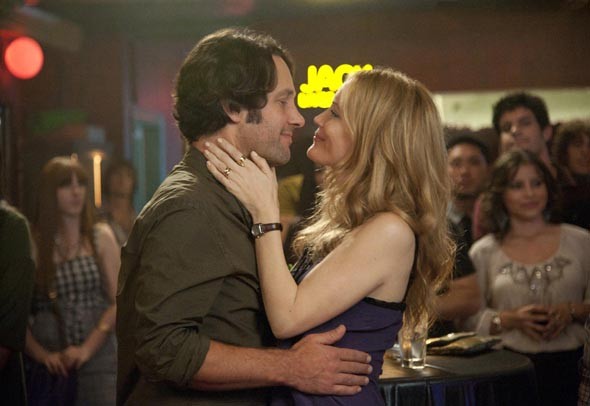 Few people have done as much to change the face of American comedy as Judd Apatow.  Having made significant impacts in both television and film, Apatow continually manages to blend his R-rated brand of humor with heart and sincerity. After launching Steve Carell as a legitimate comedy star in The 40-Year Old Virgin, Apatow made himself a star with Knocked Up, the funniest film of 2007 and one of the most hilarious movies of all time. To describe a movie or style of comedy as "Apatow-esque" can be both a very specific indicator of what to expect and one of the best compliments one can give to a project. His latest film, This is 40, is another pure Apatow creation, but it fails to have either the comedic gut punch or emotional core that his previous films have managed.
As a "sort of" sequel/spin-off of Knocked Up, This is 40 focuses on two of the most entertaining characters from Apatow's 2007 film: married couple Pete (Paul Rudd) and Debbie (Leslie Mann). They have been married for a long time, longer than either of them cares to acknowledge. While Debbie refuses to face the inevitability of turning 40 by pretending she is only 38, Pete accepts his age with a shrug of the shoulders. Pete's real concern is the floundering record label he launched and the very precarious financial situation in which he and Debbie find themselves. The couple is also dealing with their two daughters, Sadie (Maude Apatow) and Charlotte (Iris Apatow), and the constant bickering that comes with having children. 
Making their lives even more complicated is Pete's dad, Larry (Albert Brooks), who is constantly mooching money off his son even though Pete doesn't have the money to give. The store Debbie runs is missing $12,000 and she assumes the culprit is her sexy employee, Desi (Megan Fox), whose wardrobe and lifestyle costs more than what she is earning working retail. Pete and Debbie are also battling their own insecurities which lead them to resent each other more than they should. 
The main problem with This is 40 is that, like Funny People, Apatow is trying to cram too much into one movie. The film runs over two hours and just plods along with no real sense of urgency. The script is overflowing with conflicts and mishaps that the characters must deal with, none of which are either fully explored or brought to a satisfying resolution. The movie moves from scene to scene with no real transitions or logical progression. Apatow can be long-winded in his narratives (each of his films would benefit from significant editing), but This is 40 is the worst offender by far. 
Of course, the film is hilarious and, if you like Apatow's taste for off-color jokes, you are going to love the first hour of the movie. After that, it becomes too bogged down with arbitrary arguments to allow the wonderful cast to do what they do best. Rudd and Mann are terrific (as always) and it's nice to see Pete and Debbie again since their dysfunctional marriage was one of the highlights of Knocked Up. Here, though, we get a little too much of them and they become slightly grating by the film's end. 
The supporting cast is uneven, at best. Brooks is great as Pete's deadbeat father and manages to make you love and hate Larry at the same time. Jason Segel pops up as Debbie's very hands-on trainer, but doesn't make much of a splash in the film. Chris O'Dowd, whose list of credits is rapidly expanding, is great as Pete's employee Ronnie, delivering some of the film's best one-liners. 
While This is 40 cannot be called a bad movie, it should definitely be skipped in the theater to save yourself the money. Catch it on DVD or On Demand in a few months so you can fast forward through the many, many superfluous scenes of arguing and yelling.