Review: The Wanted, 'Word of Mouth' Is Conservative For The Most Part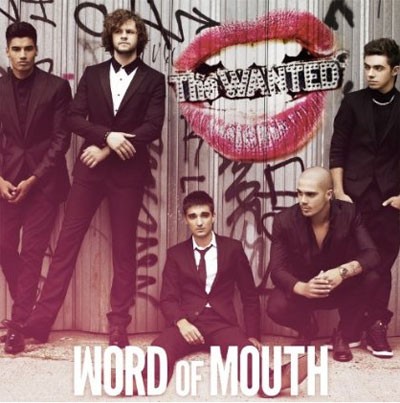 The Wanted Keep it conservative for the most part on Word of Mouth: You know, in some respects it sucks to be The Wanted.  Yeah, I know it sounds harsh and incredibly critical, but doesn't it just seem that Britain's other boy band trying to make a splash in America is say 'two steps' behind a certain band named One Direction?  Honestly, both bands are quite diverse from the other, but share common ground in the fact they both thrive on schmaltziness (just sayin'!) The Wanted did 'do work' with a notable, hella catchy no. 3 peaking single entitled "Glad U Came", which oddly is reprised on The Wanted's second American outing, Word of Mouth.  As an album, Word of Mouth has both its moments of promise and also those that are flatter than pancakes.  Too often, there isn't enough of the oomph that made "Glade U Came" a staple on US radio.  And let me tell you, a reprisal is not enough here!
Word of Mouth kinda gets off on a sluggish start.  Sure "We Own the Night" is both bright and enthusiastic sounding, but it lacks in 'style points' you might say.  What that means is that it gets the job down, even has a few noteworthy moments including the chorus, but lacks that spectacular punch. One reason "We Own the Night" is blasé is that many people have gotten "a little drunk" and though that the where "king", all lyrical excerpts from the cliché opener.  "In The Middle" isn't exactly presenting a new theme itself; basically, The Wanted won't allow anything ruin their relationship with their boos.  Yawn. "I'll let nothing in the middle, in the middle of us…" Again effective enough, but predictable.  The only thing that "Running Out of Reasons" is running out of is excitability.  It is the third straight 'it's okay' sorta cut.  I mean, at least "You'll bit your lips on mine" makes the blood rush, I guess.
Brilliant early single "I Found You" saves the album in the nick of time.  If the first three cuts lacked grit, "I Found You" restores it.  In addition to the grit, "I Found You" also infuses some of that 'bad boy', naughty swag with lyrics like "I wanna put my hands on her hands / feel the heat from her skin / get reckless in the starlight."  Sure, it's definitely pretty conservative innuendo, but at least it is innuendo, right?  The falsetto during the chorus and the bold bridge put "I Found You" on a pedestal as the track to beat.   Follow-up "Show Me Love (America)" has the right idea, but doesn't retain the same momentum.  "Walks Like Rihanna" is just around the corner with its irresistible corniness in full effect: "She can't sing, she can't dance / but who cares – she walks like Rihanna!" They do have a point though, I must admit!
"Summer Alive" sounds similar in sound to past singles "Glad U Came" or "Chasing the Sun".  Depending on who listens, it's either a pro or con.  Personally, it doesn't live up to either.  The chorus is incredibly repetitive and the song itself is definitely no hotbed of depth.  For comparison's sake, "Glad U Came" proceeds.  Need I say more? Teen pop fans 'pervs' alike can enjoy "Glad U Came", haha.  "Glow In The Dark" goes for EDM and dance-pop glory to the nth degree, once more sacrificing depth for a slick record.  While the lyrics are nowhere on the level of say Bob Dylan,  "Glow In The Dark" is one of the better moments from Word of Mouth.
While "Glow In The Dark" offers a moment of proficiency, "Demons" comes closer to a distinguished ranking, likely because there's more edge.  Sure, boy bands are aimed at teen audiences, particularly girls, but is it so much to ask for some balls… err, a taste of the risqué?  It's amazing how much a simple intensifier (aka profanity) can drive a boy-band pop number: "Stop right now what you're doing, I know / I got a needle in my brain and a nick in my bones / I cannot do a damn thing 'cause nobody's home / and it's hell, oh yeah / now I say." There it is.  'Course following the 'ooh I said damn' cut, here comes the overly-innocent "Could This Be Love" ("'Cause when we kiss / my heart drops like a bomb / I'm in pieces when you're gone / could this be love?") and the average, non-revolutionary closer "Everybody Knows" .  Guess you can't win 'em all, right?
So, where does Word of Mouth land? Somewhere in the middle, just as many of its songs are.  It's a 'good' album at times, but not one that even feels 'bubble-gummy' enough to be annoyingly fun.  "I Found You", "Walks Like Rihanna", and "Demons" are gems, combined with the 'were-now-sick-of' "Glad U Came", but otherwise, there's that lack of risk-taking and rebel spirit.  I guess it goes with the teen-pop / boy band territory, sigh.
Favorites:
"I Found You"; "Walks Like Rihanna"; "Glad U Came"; "Demons"
Verdict: ✰✰✰
The Wanted | Word of Mouth | Island | US Release Date: November 5, 2013