Review: 'The Raid: Redemption' Carries The Early John Woo Seal Of Approval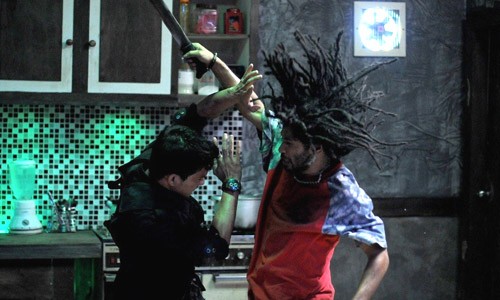 What's most impressive about "The Raid: Redemption" (formerly just "The Raid" – a better title in my opinion!) is how basic it is – and how it achieves five-star prowess even within that framework.  Its standard action set up is totally elevated by effectively tense moments, a pulsating music score and in your face fights that carry the bloody and beautiful early John Woo seal of approval.
Officer Rama is a man with a lot to live for.  He has a good job, trains hard, has a loving wife and a new baby due any day.  But when he joins an elite Special Forces team as a new recruit, he gets much more then he bargains for.  Seems their new assignment is to take control of a fifteen-story apartment block to extract a known and wanted brutal crime boss named Tama.  It's a task that many have tried but ultimately failed.  Things seem to go by the numbers at first, then their presence is detected.  To his building of thieves, rapists and criminals Tama sends out the order – free lifetime lodging for everyone who puts the team down for good.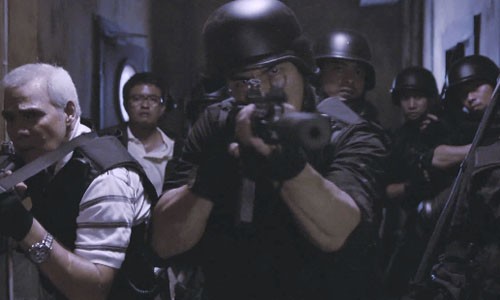 And this is where the tension soars and the action goes full force.  Like a whirlwind of fists, feet, elbows and knees, young Rama takes on a tidal wave of badass opponents and it's a sight to behold.  Both Director Gareth Huw Evans and lead man Iko Uwais (who is using a kickass Indonesian martial arts called Pencak Silat!) treat the flick like "Game of Death" on acid, with a non-stop barrage of eight million ways to dispose of a bad guy.  Knives, guns and even broken door leftovers (everyone in the audience FELT that one!), there is such a fast and kinetic creativity of choreography with "The Raid: Redemption" that it's a sight to behold.  Not that there aren't a few interesting character bits and revelations here and there, but all pale next to the prowess of the punch.  Plus the fact that the equally energetic score was composed by Mike Shinoda of Linkin Park is no accident – every standard element is given a shot of nitroglycerine for maximum movie wattage.
If you're not an action fan, you probably aren't going to dig this one, but frankly why not?  There's a beauty in the basic, a tough in the traditional and a sass in the standard here that provides some of the best battles this movie geek has seen in years.  If action does indeed speak louder then words, watch "The Raid: Redemption" with earplugs.
"THE RAID: REDEMPTION" OPENS IN THEATERS MARCH 23 FROM SONY PICTURES CLASSICS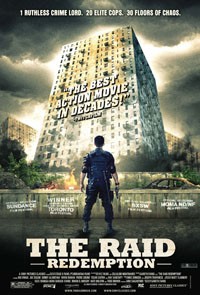 Title: "The Raid: Redemption"
   Stars: 5
   Genre: Action/Thriller
   Cast: Iko Uwais, Ray Sahetaphy, Joe Taslim
   Director: Gareth Huw Evans
   Rating: R
   Running Time: 100 Minutes
   Release Company: Sony Pictures Classics
   Website: www.sonyclassics.com/theraid/main.html