Review: 'The Perks Of Being A Wallflower' A Beautiful, Moving, Must See Film For Anyone Who Has Felt Like An Outsider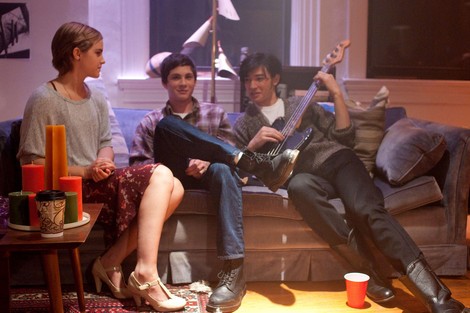 Some critics, especially those who have majored in journalism, take great pride in dissecting a film. The story, structure, characters, they doing their best to impress us with their knowledge about what works and what doesn't.
I am definitely not that kind of critic. All I do is share my subjective, emotional reaction to a film and sometimes, call my husband, John, an idiot if he doesn't see it my way.
With that said, I will now share my emotional reaction to...'The Perks of Being a Wallflower' ...I ABSOLUTELY LOVED IT. IT'S OUTSTANDING...A PERFECT FILM and... So far, my favorite film of 2012!

'The Perks of Being a Wallflower' is based on the bestselling novel of the same name. The book and the film was written by Steven Chbosky and he directed it as well. And all I want to say is... BRAVO Mr. C. Well - of course that's not all I want to say.

The film is about an outsider. A lovable, naive, troubled high school freshman named Charlie (the super fabulous Logan Lerman) is dreading his first day of school. In fact, he's already counting down the days until the summer break.
Charlie is picked on by the other kids. He's too scared to raise his hand in English class, even though he knows all the answers. He's haunted by the death of his Aunt Helen (Melanie Lynskey) as well as the suicide of his best friend.
Charlie is one scared, alienated, lonely dude...

Until...he is taken under the wing, by some pretty extraordinary seniors...
They are, in no particular order...

Sam (Emma Watson at her best) and her stepbrother, the flamborantly gay, Patrick (the equally wonderful Ezra Miller).

Angry Budhist chick, Mary Elizabeth (Mae Whitman) and her bff, Alice (Erin Wilhelm).
They all welcome Charlie into their group, known as...'The island of Misfit Toys'. 

It's through Charlie's relationship with this fantastic group of eccentric characters, he's able to step out of his shell, face his demons, deal with his guilt, and eventually step into his true self.
Oh, he even gets to perform on stage in a production of 'The Rocky Horror Show'

'The Perks Of Being A Wallflower' is an incredibly moving take on love, loss, hope and the unforgettable people that help us get through life.

In Charlie's case, it wasn't only his friends, but his supportive teacher (Paul Rudd) who sees his potential to someday...be a great writer.

The dialogue is some of the best and every actor is pitch perfect in their performance. The sound track...KILLER!

You will laugh, cry and applaud. This is not just a film for teenagers...It's a must see film for everyone...Because, when Charlie, in V.O. says...

'There is this one moment when you're not a sad story...You are alive and you stand up and see the lights of the buildings and everything that makes you wonder and you're listening to a song and you're driving in a car with people you love most in the world and in that moment, I swear we are...infinite'...

You will understand what he means...No matter what our age...we've all had at least one moment in our life when...we have felt...infinite.

'The Perks of Being A Wallflower' opens in theatres Friday September 21st, 2012. I gave it five bagels out of five and John was just a half a bagel away in his rating.

Check out our video for more of our thoughts.
Two Jews on Film - By Joan Alperin Schwartz
Please SUBSCRIBE to our channel on YouTube and LIKE us on our Two Jews on Film Facebook page. Love to hear what you  think. Thanks everyone.