Review: The Killers 'Live From Royal Albert Hall'

The Killers
put on one heck of a live show each and every time that they go out on stage and perform. Anyone who has been fortunate enough to see them up close and live will likely attest to the fact that The Killers as a whole are stunning, breathtaking and appear to be possessed by the spirit that is their music into putting out the absolute best show possible for their fans. Their live sound makes one realize that they are the real deal and not some band that is all studio magic.
After having spectacular high-def runs in theaters in N.Y.C. and L.A. The Killers are releasing their '
Live From Royal Albert Hall
' CD/DVD for the masses. Recorded in July of 2009 at the historic 138 year old Royal Albert Hall in London, the show is nothing less than spectacular in the rounded building that was packed with screaming fans and was akin to something straight out of
Mad Max Beyond Thunderdome
.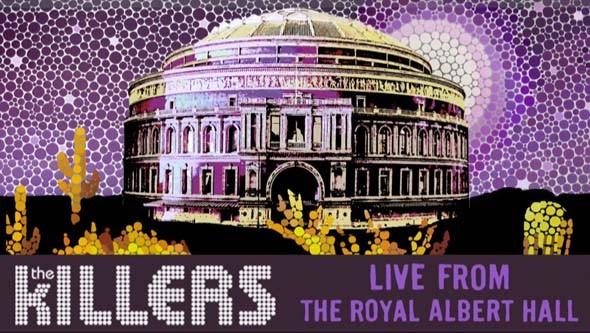 With a palm tree adorned stage that had a zebra print floor, Brandon Flowers, Dave Keuning, Mark Stoermer and Ronnie Vannucci Jr. took to the stage like men on fire. It's clear that these four men were put on Earth to make music and thankfully they all found one another to make it all that much more special.
When watching 'LFRAH' you'll feel as though you're right there in the front row, on stage and back stage with the band much like the fans in theaters were feeling. The camera shots are so well done that you can even see the taste buds on the tongue of Flowers as he sings; it's all show from beginning to end and you'll find yourself singing along, cheering and waving your hands as if you're right there with The Killers in Royal Albert Hall.
'LFRAH' gives you an up close and look at Flowers to the point that you can't help but see him as being a modern day combination of
Mick Jagger
and
Freddie Mercury
. Flowers who has an innocent yet confident look moves with such an amazing force and sings hit after hit as if each song is about to burst right out of their chest in a magical explosion for all the world to see.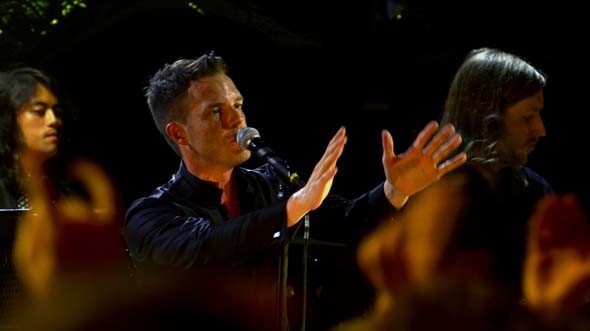 The set list is a mix of all four studio albums. From 'Hot Fuss' we have "Somebody Told Me," "Smile Like You Mean It," "Mr. Brightside," "All These Things That I've Done" and "Jenny Was A Friend Of Mine;" from 'Sam's Town' we have "For Reasons Unknown," "Bling (Confessions Of A King)," an acoustic version of "Sam's Town," "Read My Mind," "The River Is Wild," "Bones" and "When You Were Young;" from 'Sawdust' there's "Shadowplay" and "Sweet Talk;" and representing 'Day & Age' are "Human," "This Is Your Life," "The World We Live In," "Joy Ride," "I Can't Stay," "Losing Touch," "Spaceman" and "A Dustland Fairytale."
'LFRAH' is quite possibly the best live album and video since Elvis and his 'Aloha From Hawaii' some 36 years ago. It's nothing less than rock and roll at its greatest; was done with perfection in mind and it gets nothing less than five out of five stars.
The Killers' 'Live Rom Albert Hall' CD/DVD is
now out in stores
!
Story by
Eric Stromsvold
Starpulse contributing writer