Review: 'The Hobbit: An Unexpected Journey' A Trip Through Middle Earth At 48 FPS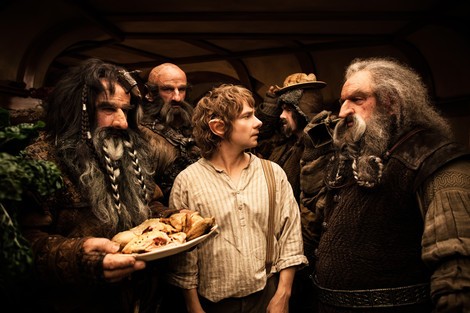 They're back -- the orcs, goblins, dwarfs, dragons, wizards and Mr. Hobbit himself, Bilbo Baggins (Martin Freeman).
Shot in 48 FPS (frames per second) instead of the usual 24 FPS (it's also in 3D), Peter Jackson has once again created a visually stunning, exciting, magical film that takes us on a journey through Middle Earth.
The film opens with a prologue. The aged Frodo (Ian Holm) tells a story and we are instantly transported to the kingdom of the Dwarfs (Erebor).  They are all quite happy living in their golden city until one day they are paid a visit by a fire breathing dragon. Are there any other kinds?
This dragon known as Smaug not only destroys the dwarf's homeland but makes off with their Arkenstone; a beautiful gem that yields enormous power (supposedly).
After this visually stunning opening we travel back in time where Bilbo, a young Hobbit, is living a peaceful, orderly existence in a neighborhood known as Bag End. Well, it doesn't take long for that to change.
Quite out of the blue, Gandalf the Grey (Ian McKellan) comes to visit. He is followed by 13 very unruly dwarfs led by their leader; a very sexy, very legendary warrior named Thorin (Richard Armitage).
Gandalf uses every trick in his arsenal to convince the super reluctant Bilbo to accompany the dwarfs on a trek into the Dark Mountain to help find their stolen treasure and reclaim their homeland. Bilbo can't help but wonder if Gandalf has picked the right guy for the job.
Little did our adorable Hobbit know that this journey would be an adventure of a lifetime and change his life...forever.
The journey takes the dwarfs and Bilbo through treacherous lands swarming with goblins, orcs, deadly wargs, giant spiders and sorcerers; and of course ending with Bilbo's encounter with a creature named Gollum (Andy Serkes) and his Precious.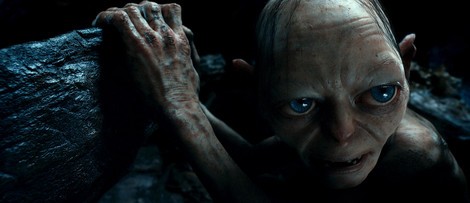 It's here, by an underground lake separated from the dwarfs, our hobbit discovers the depth of his courage - as the stuff he's really made of (he better, the fate of Middle Earth hangs in the balance).
For those of you who can't get enough of 'The Hobbit' don't worry. This is the first in a trilogy. 
Did I love this film as much as I did 'Lord of the Rings'? No, at times the comedy was a bit too much and bordered on corny. Also I would have loved to see more of Hugo Weaving (Elrod) and Cate Blanchett (Galadriel) as well as Christopher Lee (Saruman).  But I'm sure their roles will be expanded in the next two films.  
As for the 48 FPS, I didn't mind it.  But I do know many people who absolutely hated it.
'The Hobbit: An Unexpected Journey, opens in theatres Friday December 14, 2012 and I do urge everyone to see it, whether you're a fan or not. It's a spectacular piece of filmmaking by Mr. Jackson.  Not perfect, but really, really good.
I gave 'The Hobbit: An Unexpected Journey many more bagels than John, of course.  Check out our video for our bagel rating and for more of our banter.
Please SUBSCRIBE to our channel on YouTube and LIKE us on our Two Jews on Film Facebook page.  Only need 35 more to reach 1000.
Thanks everyone and please share your thoughts with us.