Review: 'The Heat' Is Far From Hot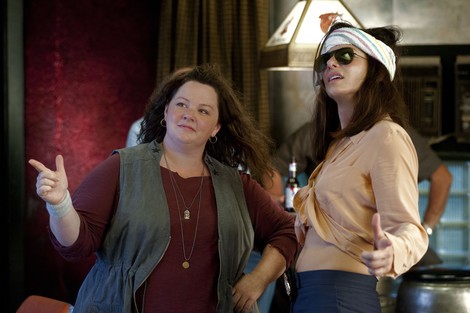 On paper this film must have sounded like a great idea.
A super uptight, friendless, socially awkward FBI Agent has to partner with a foul mouth, crass Boston cop in order to bring down a vicious drug lord. Add Oscar winner Sandra Bullock and Academy Award nominee Melissa McCarthy to the mix, plus director Paul Feig (Bridesmaids), and you have a perfect female "buddy flick."
What could possibly go wrong?
Well, in the case of "The Heat," written by first-time screenwriter Katie Dippold, a great deal went wrong - mainly the film, which is a comedy that just isn't funny.
Not funny enough that is.
McCarthy (Shannon Mullins) plays the trash talking Boston cop and Bullock (Sarah Ashburn) is the career driven by-the-book FBI agent.
Now don't get me wrong, Melissa is one funny lady.  She can crack you up with one look or tilt of her head and Miss Bullock can do uptight, lonely and vulnerable in her sleep.
The problem lies with the script. Not only are you one step ahead of the story, but the film is extremely contrived.
It's obvious from the get-go that these two ladies will wind up being BFFs by the time the credits roll.
Sarah, who is disliked by her fellow agents, wants a promotion...bad. Her boss (Demian Bichir) promises her one if she can take down this big-time drug lord who operates out of Boston.
Faster than the speed of light, agent Sarah says so long to New York City and heads to Boston. Nothing is going to stand in her way.
Only problem is, when Sarah arrives at the Boston Police Station to interrogate one of the drug lord's dealers (Spoken Reasons), she comes up against Detective Mullins, who is anything but happy that this snooty FBI gal is encroaching on her territory. 
To make matters worse, these two ladies are forced to partner with each other, and well, you can figure out the rest. Let's just say it includes a BIG girl-bonding moment with lots of drinking and dancing (never seen that before).
The script tries hard to get the audience to care about these women.  They even make Sarah a foster child and throw in a super dysfunctional family for Mullins. Jane Curtin plays her mother and Michael Rapaport is Mullins ex-con drug addict brother.  
When I see a comedy I expect to laugh.  Unfortunately with this film, I only chuckled and not more than a few times. For that reason, I gave 'The Heat' which opens in theatres, Friday, June 28, 2013, only 2 1/2 bagels out of 5.
Check out our video for more of our thoughts, John's rating and of course to see Mango, our beautiful Pekingnese.
Please SUBSCRIBE to our channel on YouTube and LIKE us on our Two Jews on Film Facebook page. Thanks everyone.