Review: 'The Hangover Part III' - Someone Forgot The Funny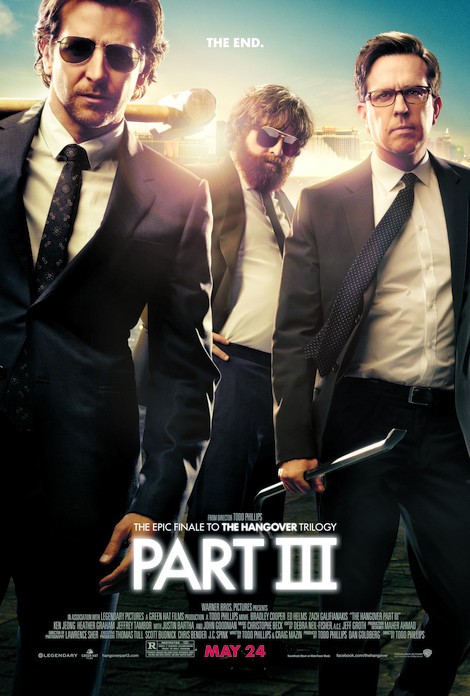 I judge how good a comedy is, by how much I laugh, as well as how much the audience laughs...or doesn't, as was the case last night, sitting in the theatre, watching 'The Hangover Park 3'.
It's been two years since our guys...Phil (Bradley Cooper), Stu (Ed Helms) and Doug (Justin Bartha) have had any encounters with strippers, weird tigers, monkeys, gangsters or drugs.  In fact, they are all happily married and living the good life in suburbia.
The only member of the Wolf Pack who doesn't have his life together is (unsurprisingly)...Alan (Zach Galifianakis.) And now, he's off his meds. He says and does whatever he feels like, at any given moment, no matter how inappropriate, and is driving his parents, who he still lives with, nuts.
His three buddies decide to do an intervention, which includes a journey to a mental facility in Arizona and that means...ROAD TRIP. 
Which also means for our guys that normalcy is thrown out the window, replaced by complete mayhem, kidnapping, bad guys, drugs, breaking and entering, a trip to Mexico and of course to VEGAS.
While 'The Hangover Part 3', is once  again directed and written by Todd Phillips and Craig Mazin, this time it fails to produce anything that actually stands out. It lacks the shock and absurdity that made the first film so laugh-out-loud funny. With the exception of the  change in geography, it's essentially a copy and paste job where the jokes have gone stale.
Heather Graham, Stu's first wife makes a brief appearance and of course, Mr. Chow (Ken Jeong) is back. This time, however, he didn't bring the funny...only the mean and nasty. 
Rounding out the cast is John Goodman and Melissa McCarthy, who is the one character that actually manages to produce laughs.
I gave 'The Hangover Part 3', which opens in theaters Thursday, May 23rd, 2013, only two bagels out of five...and John gave it even less.
Check out our video for more of our thoughts.
Please SUBSCRIBE to our youtube channel and LIKE us on our Two Jews On Film facebook page.
We would love to know what you think about this film.