Review: The Genre Mixing World Of 'Resolution' Begs To Be Explored Firsthand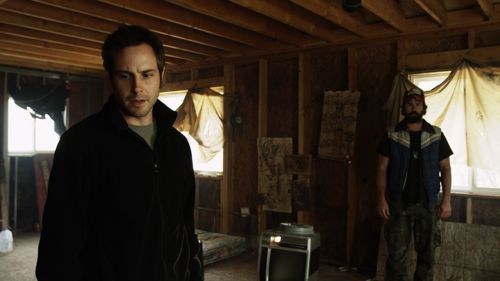 Mixing genres in a single film is a tricky thing – sometimes things can get marred down in an uneven tone.  But in some instances such a prospect can actually breathe new life into familiar ideas and in the case of the new film "Resolution" produces a unique and ultra-real vibe not to be ignored. 
Mike is worried about his long-time friend Chris.  Seems Chris has thrown in the towel as far as life is concerned and taken up in a little abandoned cabin where meth is the special of the day.  So Mike decides to make one final intervention to save his mate – he cuffs him to a cabin pipe and pours him a glass of water.  Rehab is in session.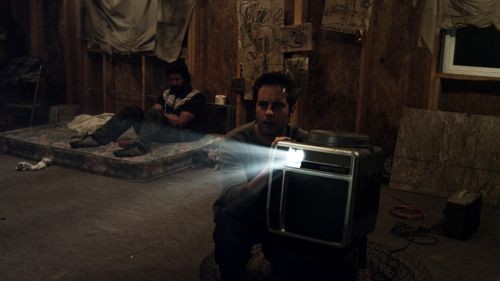 You would think this alone would be enough to sustain an entire film, but filmmakers Justin Benson and Aaron Scott Moorhead cleverly use this initial premise as a springboard for other strange and mysterious elements that await the unsuspecting cabin inhabitants.  The directing duo obviously understands that the more we care about the characters the higher the scare factor and "Resolution" has got the goods.  As the sullen Mike and the spastic Chris, Peter Cilella and Vinny Curran are as likeable as they get – we're engaged in their plight long before anything goes awry.  Plus the world is filled out with the likes of creepy side characters like Bill Oberst Jr. as a needy neighbor and Skyler Meacham as a moody local hood.  But it's just enough, like the story itself, to keep things interesting without becoming implausible – what is this film really about?     
I know I'm being vague on the more ominous events in the film, but that's part of the brilliance of "Resolution" and I for one am not going to spoil it.  There's so much going on inside the world of "Resolution" that it begs to be explored first hand.  Bottom line is the story here is well weaved and told with such a precise attention to seeming real that it almost could easily be mistaken for improv.  Real cinematic skill is not something that happens film fans – the talented only make it look easy.      
"RESOLUTION" IS CURRENTLY AVAILABLE VOD AND OPENS IN THEATERS IN LA ON JAN. 25 FROM TRIBECA FILMS.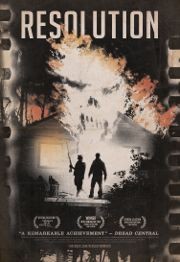 Title: "Resolution"
   Stars: 4
   Genre: Drama/Horror
   Cast: Peter Cilella, Vinny Curran, Kurt David Anderson
   Director: Justin Benson / Aaron Scott Moorhead
   Rating: Not Rated
   Running Time: 93 Minutes
   Release Company: Tribeca Films
   Website: http://www.tribecafilm.com