Review: 'The Five-Year Engagement' Just Not That Engaging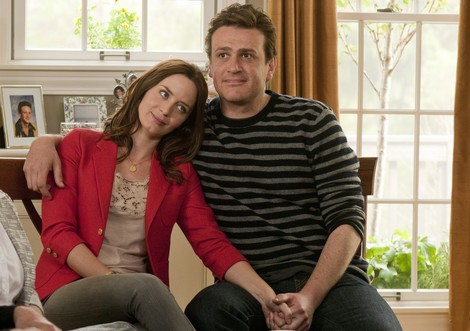 Unlike John, the other half of the 'Two Jews On Film, it doesn't take a lot for me to enjoy a film. Basically, I want to care about the characters and their story.  And this brings me to my problem with 'The Five Year Engagement', directed by Nicholas Stoller ('Get Him To The Greek') I just didn't care.
Not only didn't I care about the two lead characters, Tom (Jason Segel) and Violet (Emily Blunt) but they really, really annoyed me.
The film starts out promising. Tom, an up and coming chef in San Francisco proposes rather romantically to his British girlfriend Violet. She happily accepts and next thing we know...
There's an engagement party, where we meet the couple's parents, friends and Emily's over emotional sister, Suzie (the very funny, Alison Brie). Suzie's toast to the happy couple is definitely the highlight of this film.
Anyway, Tom and Violet start to plan their wedding, set the date, etc... and all is wonderful in their world until...
Two Jews on Film - By Joan Alperin Schwartz
Violet gets accepted at the University of Michigan to study and teach psychology. Tom, being the nice guy that he is, agrees to leave San Fran and move to...you guessed it... The wilds of Michigan. Tom figures that he can get a chef job anywhere, right? Hmm, not quite.  After being turned down by several upscale restaurants, Tom winds up working at a local deli, making sandwiches.
He's not exactly...'living the dream'  Violet, however is.  She thrives while Tom goes downhill...fast.
Some of the highlights of his descent... Tom becomes a hunter... killing defenseless deer, while wearing really ugly sweaters that his new friend, Chris Parnell, a stay at home dad, knits for him. Our guy also grows a scraggly beard, raises bees, and makes mead. Really?
So, the wedding date keeps getting postponed...over and over and over again.  At the same time, to Violet's chagrin, her sister Suzie winds up marrying Tom's best friend, fellow chef, Alex (Chris Pratt) and has babies and lots of hot sex.
Chris Pratt, by the way, plays the exact same character he portrays in his TV show 'Parks and Recreation'.
Considering that Judd Apatow was the producer and I am a big fan of Segel, I really expected so much more from this romantic comedy. There are some funny moments, but on the whole, I found it predictable and plodding.
'The Five Year Engagement' opens in theatres, April 27, 2012. I gave it 2 bagels out of 5.
Check out our video to see John's thoughts and his rating. I'd wait for DVD.