Review: 'The Descendants' 'Two Jews On Film' Miss The Heart In Clooney's Latest Dramedy (Video)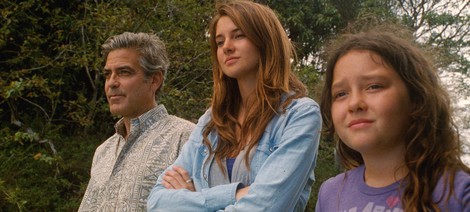 Two Jews on Film - By Joan Alperin-Schwartz: When 'The Descendants' directed by Alexander Payne (Sideways) started, I really expected to love it.  I mean, the film is set in Hawaii, there's a woman in a coma, and it stars George Clooney.
Unfortunately, I had quite a different experience.  I didn't hate this film, but I did find my mind wandering...thinking about my overweight dog that needs to go on a diet... Definitely not a good sign.

Okay, so here's the story... George Clooney plays Matt King. Matt is married but not the greatest of husbands.  He has two children... but not the greatest of fathers...
Matt is your typical clueless, workaholic. Besides being a lawyer, he's is the trustee of 25,000 acres of untouched land on the island of  Kauai, left to him and his many cousins by their ancestors. Now, a greedy developer (is there any other kind) he wants to buy the land and build all those things that greedy developers build on pristine land.
 
When his wife gets into a boating accident and falls into a coma, Matt soon finds his neat little world spinning out of control.  
He has to very quickly figure out how to become a dad to his two kids.

This proves problematic, since his oldest daughter, (Shailene Woodley) is really pissed off at him after years of neglect.  She's not interested in Matt's need to become 'father of the year'. Plus, Matt has to find a way to tell his youngest daughter, Scottie (Amara Miller) that her mother won't be waking up.

If that's not enough to stress him out, Matt's cousins are pressuring him to sell the land to the greedy developer and his wife's father, (Robert Forster) blames him for everything bad that's ever happened to his daughter.

Oh yeah...there's one more thing...Matt discovers that his wife was cheating on him and becomes obsessed with discovering who his wife's lover was... even dragging his daughters into his quest.  

'The Descandants' is based on a book written by Kaui Hart Hemmings.  Payne wrote the screenplay along with two other writers, Nat Faxon and Jim Rash. I always worry when I see more than two writers on a film.  You know that saying... too many cooks...

In the end, I found 'The Descendants' lacking the emotional impact I expected and wanted from a film dealing with, loss and grief.

Because of that, I gave this movie only 2 1/2 bagels out of 5 and John, gave it even less.  Check out our video to see John's, George Clooney's impersonation.

'The Descendants' opens in theaters, Wednesday, November 16, 2011.