Review: 'That's My Boy' Raunchy, Outrageous, But Lacks Humor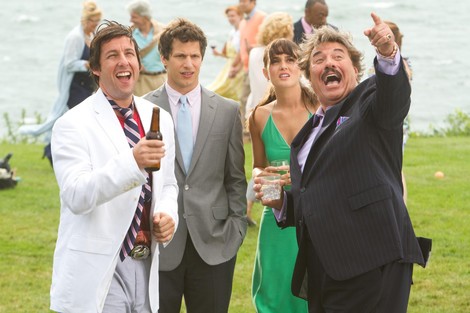 First the good news:  'That's My Boy' directed by Sean Anders, has one of the funniest opening scenes of any Adam Sandler film I've seen in a really long time.
The year is 1984...13 year old Donnie Berger, (an excellent Justin Weaver) rises to fame after a hot affair with his gorgeous, super sexy math teacher, Mary McGarricle (Eva Amurri Martino).
Donnie winds up making six figures for his life story, becomes a national hero and even gets on the cover of Tiger Beat, the premier teen magazine. Life couldn't be better for our young stud.  
However, life turns out slightly different for his baby-mama.  That's right, the potent Donnie, impregnates Ms. Mary and she winds up getting sent to prison for 30 years.
Donnie gets custody of his son, whom he names Hans Solo, and raises him... badly... for 18 years. 
Two Jews on Film - By Joan Alperin Schwartz
Which brings us to the present… 25 years after Donnie's five minutes of fame, we find him broke, owing the IRS $42,000 and he's about to be sent to jail for tax evasion. What is a talentless, loser to do?
Crash his son's wedding of course.
Randy Morgan (Dan Patrick) a sleazy reality producer promises Donnie $50 grand if he can arrange a reunion between himself, his son and McGarricle, who's still in the joint… and now looks a lot like Susan Sarandon.
This could be a big problem since Hans Solo has since changed his name to Todd; is a super successful business man; and hasn't seen Donnie in almost ten years.  He tells everyone that his parents died in an explosion.
Todd is about to be married to a beautiful controlling gold digger named Jamie (Leighton Meester).  And thanks to her charms, Todd's boss, Steve (Tony Orlando) has graciously invited the whole wedding party to his estate for a weekend of celebration before the big date.  
Donnie shows up, pretends to be his son's long time friend and much to Todd's chagrin...winds up the STAR of the weekend.
Everyone, including Steve's elderly, but still horny grandma, as well as, Jamie's straight parents (Will Forte, Rachel Dratch) and her weirdly weird Marine brother, Chad (Milo Ventimiglia) love him.
'That's My Boy' is filled with outrageous, raunchy, over the top humor. At times, the film is actually funny, in a sophomoric kind of a way. Other times it's silly, but most of the time it's really, really stupid.
There is something for everyone:  Lots of penis jokes, nudity, sex with the elderly, sex with relatives, sex with stripers...You get the idea.