Review 'Ted': A Must See Original And Entertaining Comedy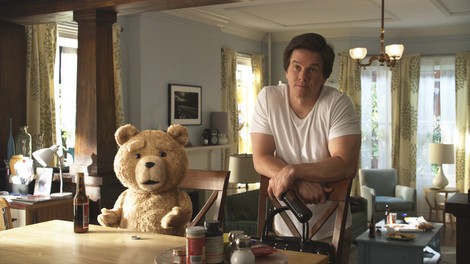 I love talking animals and I have to admit I own quite a few. Granted they're stuffed with a vocabulary of not more than ten words; which definitely doesn't come close to the vocabulary of 'Teddy', the foul mouth, boozing, pot smoking, oversexed bear.
Teddy is one of the stars of Seth MacFarlane's new film 'Ted'. MacFarlane, for those of you who aren't into animated TV shows, is the creator of 'Family Guy' and 'The Cleveland Show'.

And just like these edgy sitcoms, 'Ted' is hysterically funny, outrageous and wonderfully politically incorrect.

When the film opens, we meet John, a lonely, awkward 8 year old, who is given a teddy bear for Xmas. Before he goes to sleep, John makes a wish for Teddy to be alive so he can have a real friend for life.
Come morning, Teddy is not only alive, but he walks, talks, eats and becomes an overnight star. He even makes an appearance on the Johnny Carson show.

Well, we all know what happens to childhood stars (think Cory Feldman). They grow up and fade away and that's exactly what happens to Teddy.

Flash forward 20 years. John (Mark Wahlberg) is 35 and still lives with Teddy. They spend their time smoking pot, drinking and watching reruns of their favorite TV show 'Flash Gordon'.

John works in a rental car company while Teddy lounges around the house getting wasted. He couldn't be happier.

Unfortunately, for him things are soon about to change...

Lori (Mila Kunis) John's super gorgeous, super sweet girlfriend has reached her boiling point. She wants John to grow up and get serious about their relationship.... which means...

John is going to have to make a choice... Lori or Teddy.

This leads to a series of events that involve a kidnapping, a concert, a break-up and a great deal of LOL moments.

'Ted' which has a great supporting cast, including Giovanni Ribisi, Alden Minchi, Jennifer Barth, Sam T. Jones (Flash Gordon) Norah Jones and a surprising cameo by Ryan Reynolds is one of the most entertaining, original comedies I've seen this year.

It's a must see and that's why I gave this film, which opens Friday, June 29th, 2012...  4 bagels out of 5.

Check out our video to see our surprise guest (Hint: Ted's new girlfriend) and John's surprising 'bagel' score.
Two Jews on Film - By Joan Alperin Schwartz