Review: Tamar Braxton, 'Love and War' - Braxton Impresses (Vocally) While Some Material Underwhelms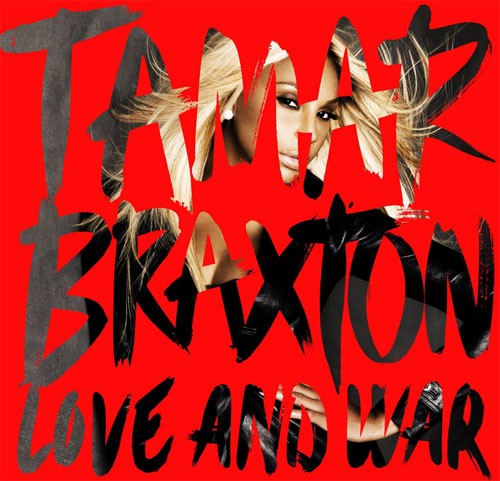 Apparently there is room for more than one Braxton. Yep. Tamar Braxton, the younger sister of multiplatinum R&B singer Toni Braxton is living up her moment in the spotlight.  Tamar  previously released a solo album, Tamar, but that was way back in 2000.  Now 13 years later, Braxton returns with the biggest solo hit of her career ("Love and War") and an album poised to make a much larger wave than Tamar ever could.  Love and War accomplishes what it is supposed to; it introduces (or reintroduces) Tamar Braxton as a worthwhile R&B artist in her own right. Is it impressive? I wouldn't call it that, but vocally, Braxton definitely has the pipes and the best songs do shine radiantly.
"The One" opens up the album nicely, sampling the Notorious B.I.G.'s "Juicy".  Brief at just under three minutes and a pretty simplistic number, "The One" still manages to pack a punch. "I don't want nobody else / baby all I need is you / you are the one I want / and don't want nobody else…" Been there, done that, but worthwhile. "Tip Toe" is a major contrast, with it's breathy vocals and excellent, hip-hop savvy/contemporary R&B sound.  While it's slick sounding, the song itself – a cut about gossip and whatnot – lacks depth.  Sure, this cut would be perfect for Ciara, Rihanna, or somebody more dance-oriented, but for a such a big voiced diva like Tamar, it's not a perfect fit.
"Stay and Fight" is a better fit, giving Tamar a big, adult contemporary R&B ballad.  It's not quite the most rousing ballad I've ever heard, but the pieces are there and Braxton's ad libs in her upper register are superb. "I want to stay and fight for you / fight 'til my heart is black and blue / fight 'til there's nothing left / not a single strand of the love we had…", she sings passionately.  What better followup than her 'ace in the hole' "Love and War", easily one of the better R&B tracks of the year. "We stay on the front lines / yeah but we're still here after the bomb drops / we go so hard we lose control / the fire starts then we explode / when the smoke clears we dry our tears / only in love in war", she sings memorably on the refrain.  Well produced with a nice, nuanced vocal from Braxton, "Love and War" is valedictory by all means.
"All The Way Home" is none too shabby itself,  contrasting the emotional balladry of "Love and War" with more groove.  This cut has 'one foot in the door' of the past yet possesses the modern vibe of present R&B trends.  Vocally, Tamar continues to impress, making the previous "Tip Toe" seem like an ill song choice.   But, Tamar isn't satisfied to stick most true to herself.  The brief "One On One Fun" is a departure with it's clubby production, not unlike Rihanna's "Birthday Cake".  Sure, it doesn't shine like "Love and War", but it's no deal breaker.  Its sibling cut, "She Did That", another 'interlude' you might say, is less satisfactory, feeling youngish for the mature, 36-year old Braxton.  That's not to say 36-year olds can't have fun, but "She Did That" is not a perfect match.  "Hot Sugar" is a better crack at it perhaps, but still, it seems a better song for say Beyoncé.  Still, the groove is electrifying as it the overall production from Kyle "K2" Stewart II.
"Pieces" is more relaxed and returns Braxton back to the adult R&B sound.  It's not 'the second coming', but its a sound enough script.  "Where It Hurts" is more triumphant, with Braxton shining most at the end when her ad libs reach for the stratosphere.  At this point, the formula has grown predictable, but "Where It Hurts" offers enough to please.  So does "Prettiest Girl", where her man has made her "feel like [she's] the prettiest girl in the world…" Simple? Yep, but we all love compliments and flattery, right?  The big drums anchor "Sound of Love" well, even if it is somewhat undercooked in parts.  "White Candle" isn't bad either, though it also doesn't compare to "Love and War".  The inspirational "Thank You Lord" closes most editions, though some also include "Black Tears" as a bonus.
Overall, Love and War is a solid effort, though not a game changer.  Braxton has a fine voice, particularly when she allows her self to let loose.  However, this effort has some inconsistencies and sometimes song choice itself plagues Braxton.  I understand wanting to promote yourself to as wide an audience as possible, but some of the hip-hop sensible numbers don't make much sense with the sophisticated Tamar Braxton.
Favorites: "The One"; "Stay and Fight";  "Love and War"; "Where It Hurts"; "Prettiest Girl" 
Verdict: ✰✰✰
Tamar Braxton | Love and War | Epic | US Release Date: September 3, 2013