Review: Sweet And Simple 'My Afternoons With Margueritte' Has Its Heart On Its Sleeve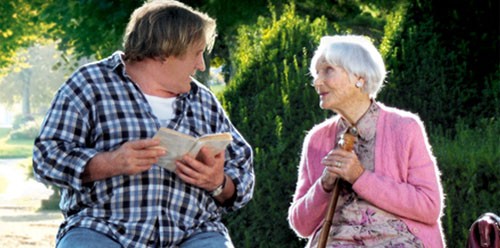 It's amazing how the French can make things so simple even in the face of complexity.  "My Afternoons With Margueritte" does contain complex relationships and turbulent pasts, but still puts as it's face a story about learning to live and love through the magic of reading.  (And no, it's not an 'Afterschool Special!')
Gerard Depardieu plays local lummox Germain, an oafish man who is considered by most, including his friends and overbearing shut-in mother, to be the village idiot.  He eats too much, drinks too much and spends most of his time doing inane tasks like defacing a local monument by adding his name.  (He's unaware it's for deceased servicemen!)  One day in the park he comes across timid old lady Margueritte (Gisele Casadesus) and the two strike up a conversation over birds and books.  Before long the almost illiterate Germain finds himself coming back day-to-day to be entertained by the storybook readings of the thoughtful Margueritte and the two soon become fast friends and confidants.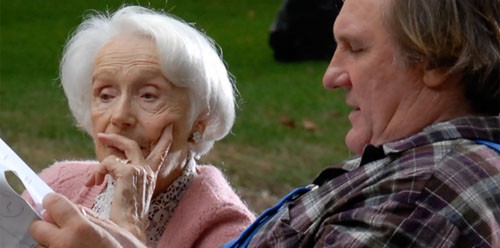 There is a pinch of predictability within Margueritte, but it's hard to blame a film that has its heart on its sleeve.  The sweet, nurturing and caring relationship that forms between Germain and Margueritte is the backbone of the film – it's touching.  Not that the outside influences (the wacky friends and jealous girlfriend!) or back story (young Germain gets quite a thrashing from insult prone mom) don't add flavor (and sometimes a bit of bad French cheese!), but the work by both Depardieu (who is perfectly cast in this one!) and Casadesus is the main dish that brings the meal home.
So while there are moments of unfitting farce and relationships tossed, this ever honest and appealing French import still provides afternoon delight. 
"MY AFTERNOONS WITH MARGUERITTE" IS CURRENTLY PLAYING IN SELECT THEATERS. 
________________________________________________________________________________________________________________________________________________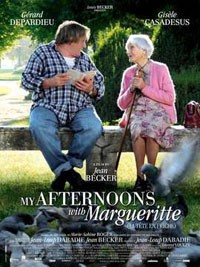 Title: "My Afternoons With Margueritte"
Stars: 3 1/2
Genre: Drama
Cast: Gerard Depardieu, Gisele Casadesus, Maurane
Director: Jean Becker
Running Time: 95 Minutes
Release Company: Cohen Media Group, LLC.
Website: www.myafternoons.co.uk/