Review: 'Sparkle' Shines Bright Thanks To A Great Cast & That 60's Soul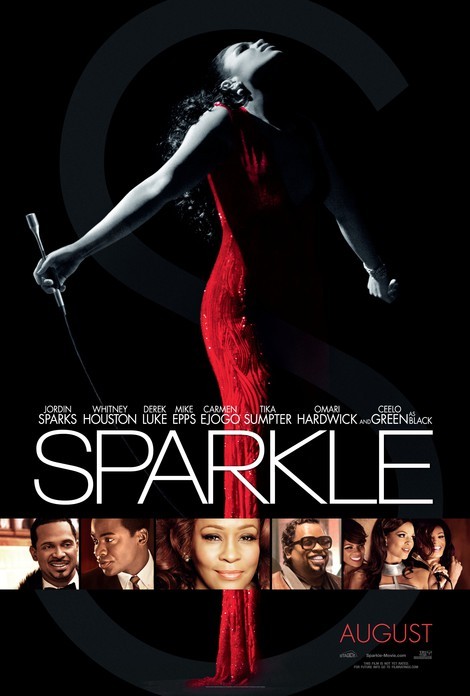 No matter how hard you try not to, 'Sparkle' directed by Salim Akil, based on the 1970's film of the same name, will always remind you of Miss Whitney Houston's premature and very sad death. Whitney died just three months after filming this picture.

"Sparkle" takes place in Detroit, Michigan. The year is 1967 and Motown is King.
Houston plays Emma, a strict, church-going, single mother, who lives with her three daughters...Sparkle (Jordin Sparks) an aspiring singer/songwriter...Dee (Tika Sumpter) who dreams of becoming a doctor and...Sister, the beautiful, super sexy, divorced, wild child.

When Emma was younger, she pursued a career as a singer, but never made it. This almost killed her so now, she's determined, that her daughters, never get anywhere near the music business. 
That's gonna be hard, since the girls, have already formed a group called 'Sister and the Sisters' and they've been sneaking out every night, to perform at local clubs.
It's at one of these clubs that the girls meet, Stix (Derek Luke) who jumps on board as their manager. 
It's also at one of these gigs, that Sister meets a local celebrity, black comedian, Satin (Mike Epps) who performs only in front of white audiences and has major anger issues. Can you blame him? His own people won't accept him.
Anyway, Sister winds up marrying Mr. bad temper guy and as the girls' career starts to take off, her marriage and her life fall apart.

What follows, is the usual amount of heart break, regret, anger, redemption and a whole lot of great music and wonderful performances by the cast, especially from... Ms Houston.
She sings 'His Eyes Is On The Sparrow,' in front of her church congregation, and even though her voice is just a shadow of its former self, her passion brought me to tears and I'm sure it will do the same to you.
Jordin Sparks is wonderful when she sings, but her acting is just okay. She just hasn't developed the chops yet to give a deep performance.
As I mentioned in our video, "Sparkle" is what I call "Dreamgirls" light, but it's still good enough for me to give it 4 bagels out of 5. It opens Friday August 17, 2012
Check out our video to see more of our thoughts and John's rating. Hint...He actually liked it. Let us know what you think.
Two Jews on Film - By Joan Alperin Schwartz
Please SUBSCRIBE to our channel on YouTube and LIKE us on our Two Jews on Film Facebook page. Thanks everyone.