Review: 'Some Velvet Morning'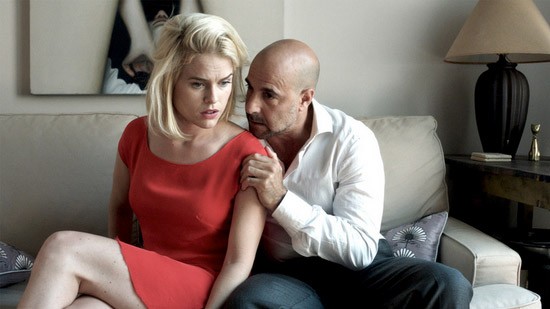 Some Velvet Morning, a Tribeca film is written and directed by the controversial Neil LaBute.  It stars Academy Award nominee Stanley Tucci and Alice Eve.
Fred (Tucci) arrives unexpectedly at his former mistress/prostitute's home, Velvet (Eve).  She is shocked and less than thrilled to see him.  He has all his baggage and it's more than just his luggage.
Fred is a middle aged lawyer who left his wife while she was out shopping because he realized he could no longer live without Velvet although; it's been years… four to be exact since they were last intimate.  However, he completely disregards that she has moved on with her life whereas he's stuck in disillusionment.  He is hell-bent trying to win her affection back. They have a disturbingly complicated history.  
Velvet isn't all what she initially seems to be.  She has skeletons in her closet which she takes out for a parade in order to kick Fred in the balls.  They are her best weapons in this war on love.
Fred unleashes an emotional tiraid on Velvet as she tries to get away from him to get to her lunch date with his son who she sees even though he is recently married - talk about keeping it in the family.
Fred invades her space in every room of her house.  His manipulative pleadings are cruel and obsessive. He's there to try to correct their past so they can have a future.
Tucci pulls you in by perfectly playing a wickedly clever, vacillating, misogynistic, control freak.  He's the man that every woman hates.  Eve plays a sweet, beautiful misguided soul adorned in a scarlet letter dress who is every wife's nightmare.

Some Velvet Morning is a drama or horror depends on your compass.  This film gives new meaning to the adage "love hurts." 
At the end, I can't help wonder if Velvet is the victor or victim. 
The film will be released beginning December 10, 2013 on cable/telco and satellite video-on-demand platforms, as well as iTunes, Amazon Watch Instantly, VUDU, Playstation, and Google Play, followed by a theatrical release beginning on December 13, 2013.